Skylight / Rooflight roller blinds can be designed and manufactured to fit virtually any size, shape, angle or age of window. Utilising a wide choice of blind fabrics, every level of shading, through to full dim-out can be achieved.  Motorised for your convenience our Skylight / Rooflight roller blinds can be controlled by wall switches, hand held remotes or can be integrated into your home control system.
We have partnered with SHY, whose speciality roller blinds are used in many commercial installations as well as high-end domestic situations.
They are ideal when rooflights or skylights are used to provide much needed light but want to be able to control the amount of light and heat that could cause problems for the building and its occupants.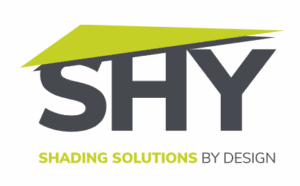 The blind systems are split into two main options;
Basic roller system – tensioned end to end without any support down the side of the blind.  These can be supplied with the rollers and spring boxes exposed or enclosed within boxes.
Zip roller system – the blinds are tensioned end to end in the say way as the basic system, however the sides of the blinds are supported by Zip side channels.  These side channels help to provide additional tension across the fabric to greatly reduce sagging and for blackout fabrics, will eliminate the light gap.  When the Zip system is specified all the blinds will be supplied with head boxes.
The majority of the systems we specify for skylights / rooflights are Zip, due to the signifiant improvements in fabric tensioning.  The heart of the SHY Zip system is SHY's specially designed zipper ribbon, which is welded to the edges of the blind fabric to create a super-strong join. The zipper ribbon is securely held in a shaped plastic inner rail which allows the blind to run freely and quietly but prevents the fabric from being pulled out of the inner rail.
Depending on the size of the skylight, there are different tensioning systems that can be specified.  Small to medium blinds use wires/cords connected to spring boxes that create a constant tension in the fabric to reduce sagging.  The basic Constant Tension Systems  (CTS) will have cords evenly spaced across the fabric, however up to a certain size, a premium wireless system can be specified where  no  tensioning wires can be seen. For larger applications, rather than sping boxes, motors are used at both ends of the fabric.  These Fabric Tensioning Systems (FTS)
SHY CTS Zip Blinds
Ideal for shading smaller glazed areas, a CTS uses a single motor system. This means it has one motor which is located inside the cloth tube. It also has a spring boxes at the other end that pull the fabric under tension. They are often used with SHY's ZIP® side channels which allow the blind to run freely and quietly but prevents the fabric from being pulled free.
Up to 2m x 2m will be supplied with two cords concealed in the side channels.  For all blinds wider than 2m one additional tensioning cord will be required every 50cm.
SHY Wireless CTS Zip Blinds
SHY Wireless rooflight blinds use a far more powerful version of the constant tension system, using SHY's own patented spring boxes and a heavy-duty hem bar to help prevent sag. With maximum dimensions of 3m x 3.5m, depending on fabric choice, the two tension wires run in the side channels giving a truly 'wireless' opening. Note the basic CTS Zip blind detailed above, only requires a third (visible) wire for sizes larger than 2m, so for blinds less than 2m, the basic CTS also provides a wireless solution.
SHY FTS Zip Blinds
An FTS is a double-motor system with a special motor at both ends of the blind. The motors "talk" to each other through a control box as the blind is travelling to control the moving and finishing tension.
Depending on the draw and width required, FTS blind can be up to 6.5m wide and up to 20m (that's 65 feet!) long. Please contact us directly to discuss the special wiring needed, best fabric choices and position of the tension cables across the heavy-duty hem bar.
We can also specify twin systems should you want a light filtering fabric or a fly screen for the day and a blackout fabric for the night.  Please refer to the twin system tab for more information.
Features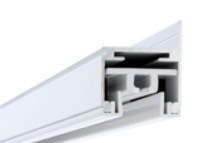 Side channels
33x28mm side channels
Flange mounted or through mounted
Zipper ribbon runs within the inner rail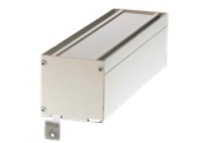 Headboxes
Headboxes will be 150mm square for blinds up to 5m wide or 6.4m long
For blinds over these sizes bespoke 200 Plus boxes will be required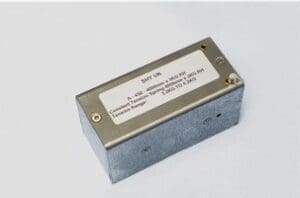 Constant Tension Spring box for CTS system
Up to 5kg of strength per box
Ensures the fabric is kept under tension to keep it taut as possible
Pulls the blind across the opening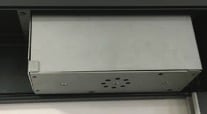 Constant Tension Spring box for Wireless system
Patented system for extra load
Ensures the fabric is kept under tension to keep it taut as possible
Pulls the blind across the opening
FTS Control Box
An FTS is a double-motor system with a special motor at both ends of the blind.
The motors "talk" to each other through a control box which allows adjustment of the moving and finishing tension.
When planning your FTS system please make an allowance for this control box to be fitted in an accessible location beneath the blind installation.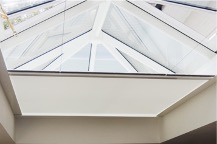 Shelf
It is recommended that wherever possible, rooflight / skylight blinds are orientated so the head boxes point up to the glass with the cloth at the lowest point, and if on show, that our shelf system is used.
Regardless of the opening, the blind can be fitted square to ensure the best finish for the fabric and long life of the blind.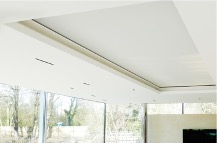 Fabric
Blackout – prevents or significantly reduces the amount of light passing through the fabric
Glass fibre and polyester screen – protect against heat and glare of the sun
Refer to the fabric tab mor more information and to download the SHY fabric cards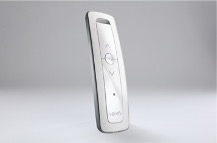 Motorised control
Hard wired – wall switch or integration into control systems
Radio control – remote or switch through dry contact receiver
How to Shop
A member of our technical sales team will only require a basic understanding of your requirement,  aperture dimensions and if possible an image of the installation area, to be able to provide an approximate quotation for your system.
A full site survey should then be undertaken by the builder or fitter who will be installing the blind system.
Tensioned Skylight / Rooflight blinds are not recommended for DIY installation.
Fitting / Installation instructions are provided.
For customers based in the South / South East of England, we have partnered up with a SHY installer specialisig in Rooflight / Skylight systems and is able to install even the most complicated FTS systems, see the site survey and fitting tab for more information.
Please note: a sample swatch is recommended before an order is placed as the colours shown on screen are not accurate enough for colour approval.  
Please also get in touch if you have any questions or would like any advice. Please email sales@thehomeofinteriors.co.uk or call us on 01590 615775.