The Bradley Collection Gliderpole Range
The Bradley Collection Gliderpole range is a sophisticated and versatile collection of curtain poles that offer a truly individual solution to any window dressing project. With a wide range of styles, finishes and options to choose from, there is a Gliderpole to suit every taste and budget.  The Gliderpoles feature a track insert, marrying the aesthetic beauty of a curtain pole with the functionality of a high performing curtain track.
Features and Benefits
Smooth running gliding systems for effortless operation – as the brackets support the Gliderpoles from the top of the pole the brackets don't interfere with the drawing of the curtains, so single curtains can draw over larger expanses of glazing
Precision bending for bay and curved windows
Concealed end stops for a sleek, minimalist look
Magnetic bracket cover plates for hidden fixings
Made to your exact specification
Wide range of finial styles to choose from to co-ordinate with your interior design style
Compatible with the wave curtain heading system
Styles and Finishes
The Bradley Collection Gliderpole range is available in a variety of styles and finishes to suit any décor.  Choose from square, flat, or 30mm / 50mm round profiles.  The 30mm and 50mm diameters are also available as a corded Gliderpole for added functionality benefits.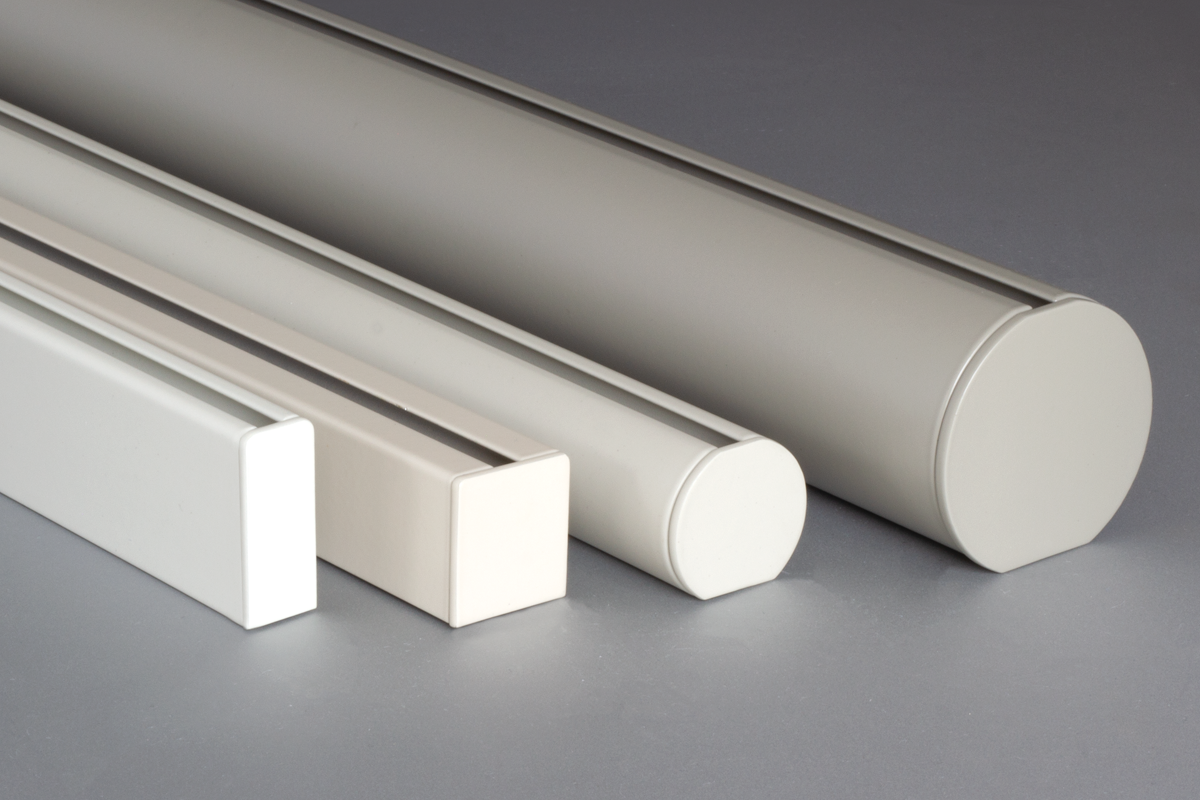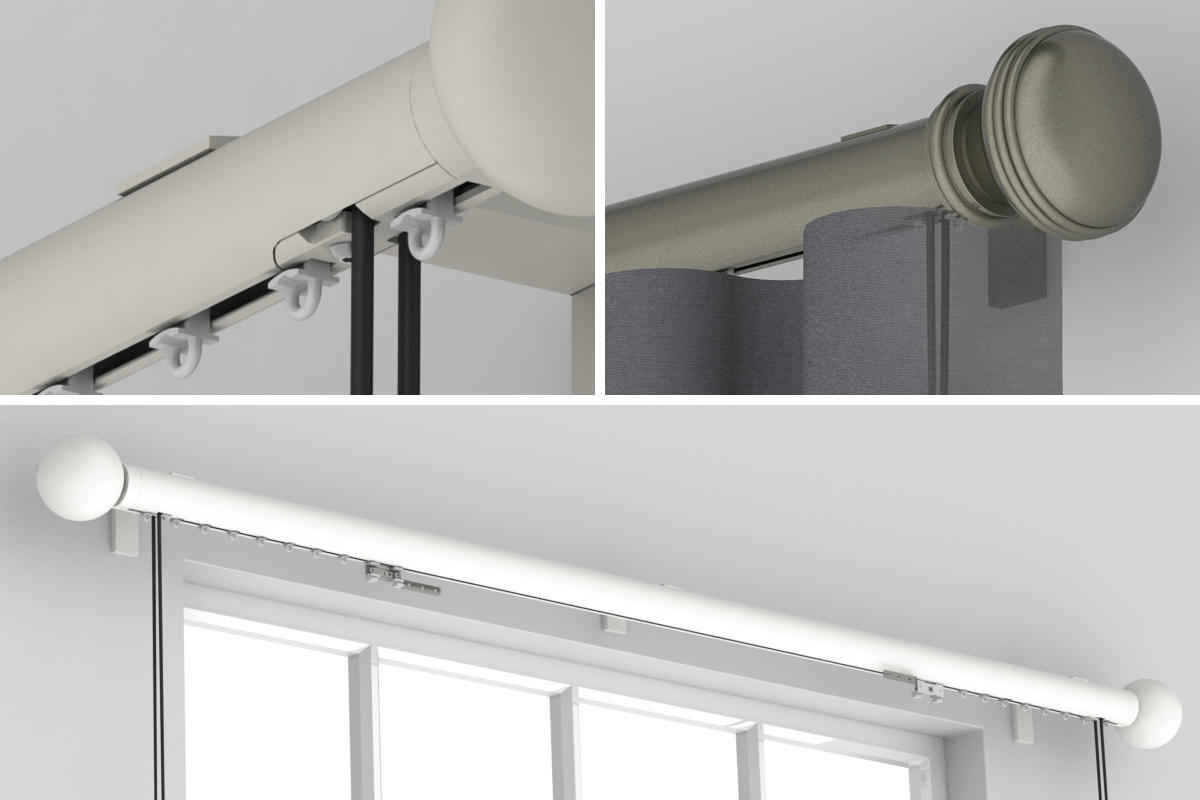 Corded Gliderpoles
A corded Gliderpole offers functional advantages to a hand drawn curtain pole.  You may wish to consider a corded operation if your curtains draw behind furniture or a sofa making it difficult to close your curtains.  They are also ideal for tall ceilings where drawing your curtains by hand can be tricky.
You may also wish to consider a corded Gliderpole if your curtains have been made in a delicate or lightly coloured fabric.  Opening and closing your curtains with a pull cord avoids to need to touch the fabric, helping to prolong the life of your curtains.
Unrivalled Finishes
Colour is intrinsic to interior design.  The Bradley Collection's mission is to
"offer maximum choice and flexibility, meaning it has consciously chosen complexity.  Mastering the challenges of sampling, production and consistency of finish, while making client specification simple and speed of delivery exceptional."
A truly stunning range of colours and finishes are available in the Gliderpole collection for an individual result.  Choose from Matte, Gloss or Satin finishes in a wide spectrum of colours from warm and cool neutrals, to striking metallics, smokey hues, burnished bronzes to name a few!  Sample colour chips are available.  Please visit the Gliderpole product pages and click on the 'Gliderpole Finishes' tab to order your samples.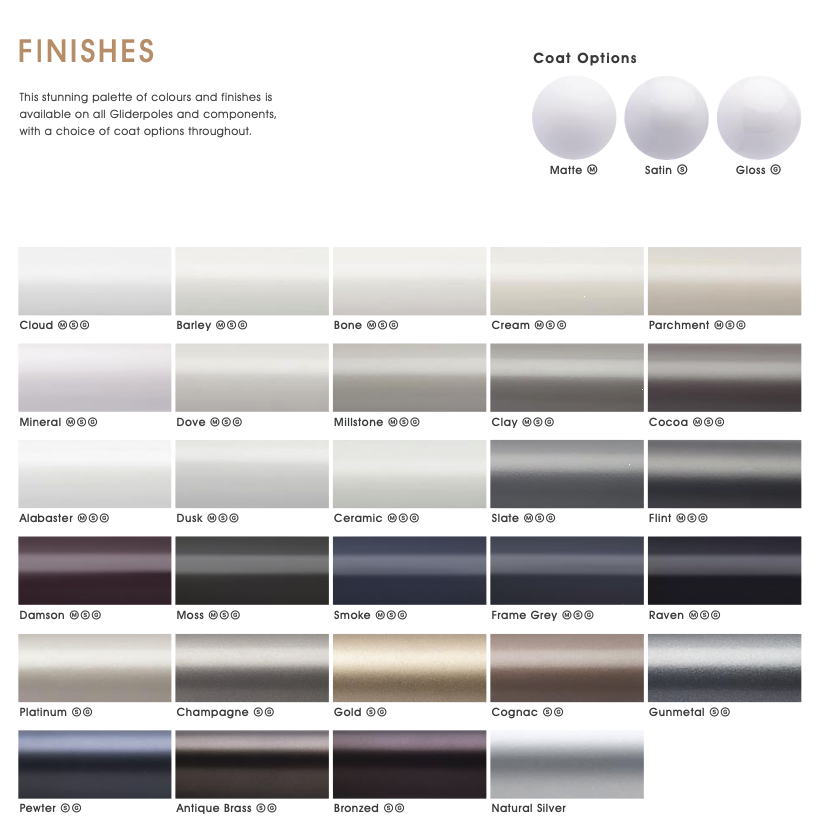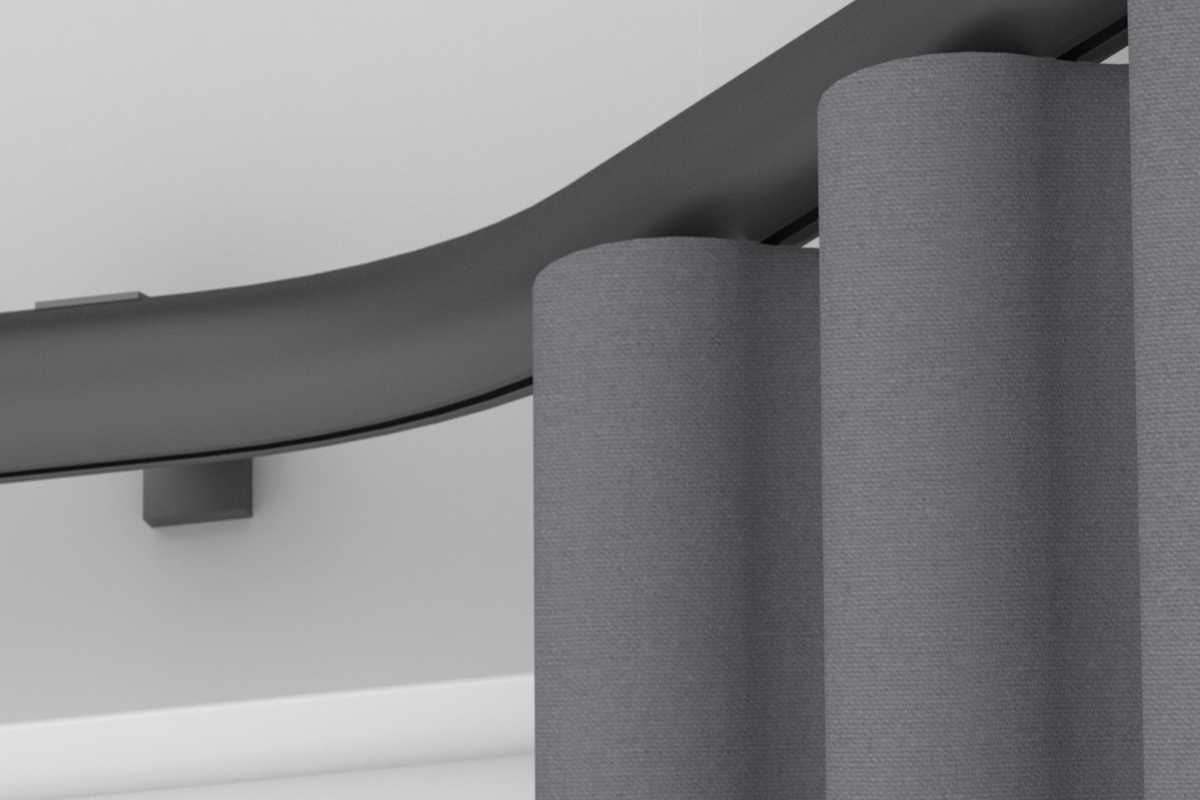 Applications
The Bradley Collection Gliderpole range is perfect for a variety of window dressing projects, both residential and commercial. Use it to create a stylish and functional solution for your living room, bedroom, kitchen or office.  All Gliderpoles can be bent in the factory for curved or bay windows.  Download our Bay Window Measuring form and upload it to your order.
The Gliderpoles are also available with a choice of standard gliders, roller gliders (recommended for medium to heavyweight curtains) and wave gliders.  The wave curtain heading style epitomises elegance and simplicity.  The Gliderpoles are a perfect choice for wave curtains.
Each Gliderpole is Bespoke to your Specification
The brackets on the Gliderpoles are available with multiple projections to suit your installation.  The Bradley Collection also offer a bespoke design service to ensure solutions are available for challenging installations!
Brackets can be made with:
custom projections for wall and ceiling fixing
custom fixing plates – ideal when fixing space is limited
an uplift – to raise the Gliderpole in front of cornicing or other architectural features
angled for sloping ceilings
Please get in touch for a quotation.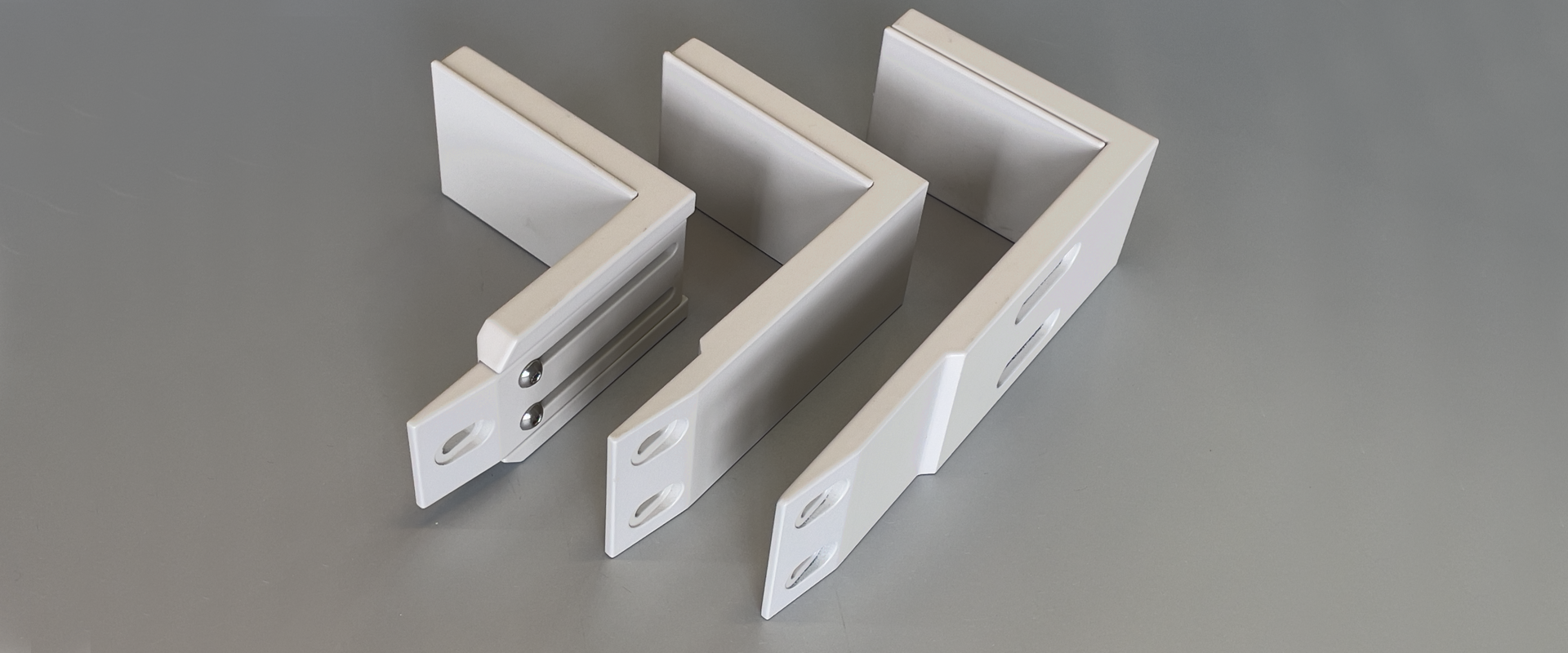 In Conclusion
If you are looking for a stylish, versatile and durable curtain pole, the Bradley Collection Gliderpole range is the perfect choice for you.
Durability: the Gliderpole range is made from high-quality materials that are built to last.
Versatility: the Gliderpole range can be used in a variety of settings, from traditional to contemporary styles.
Easy installation: the Gliderpole range is easy to install.
Warranty: the Gliderpole range comes with a 10-year warranty.
If you are embarking on a home project and would like any help or inspiration, please do get in touch. We offer a bespoke design service and can provide fabric, design and paint colour advice to help you create a home you love.