Rolls Museum Wooden Curtain Poles
The Rolls Museum wooden curtain pole collection has been inspired by British Museums and their inspiring architecture, sculptures, textiles and artefacts.  The collection is a celebration of our rich heritage; blending grand country house style with exotic influences to bring together a wooden curtain pole range that is truly stunning.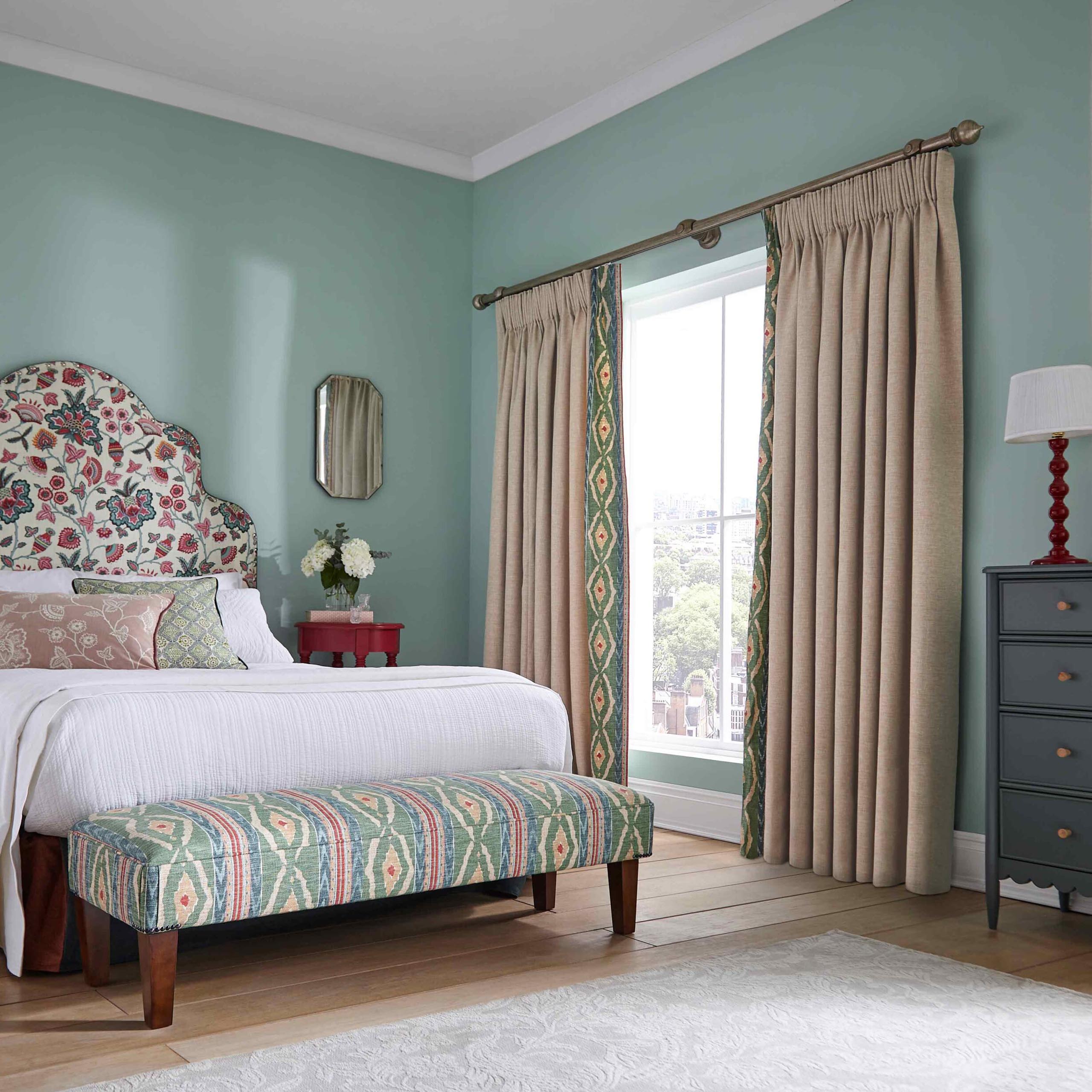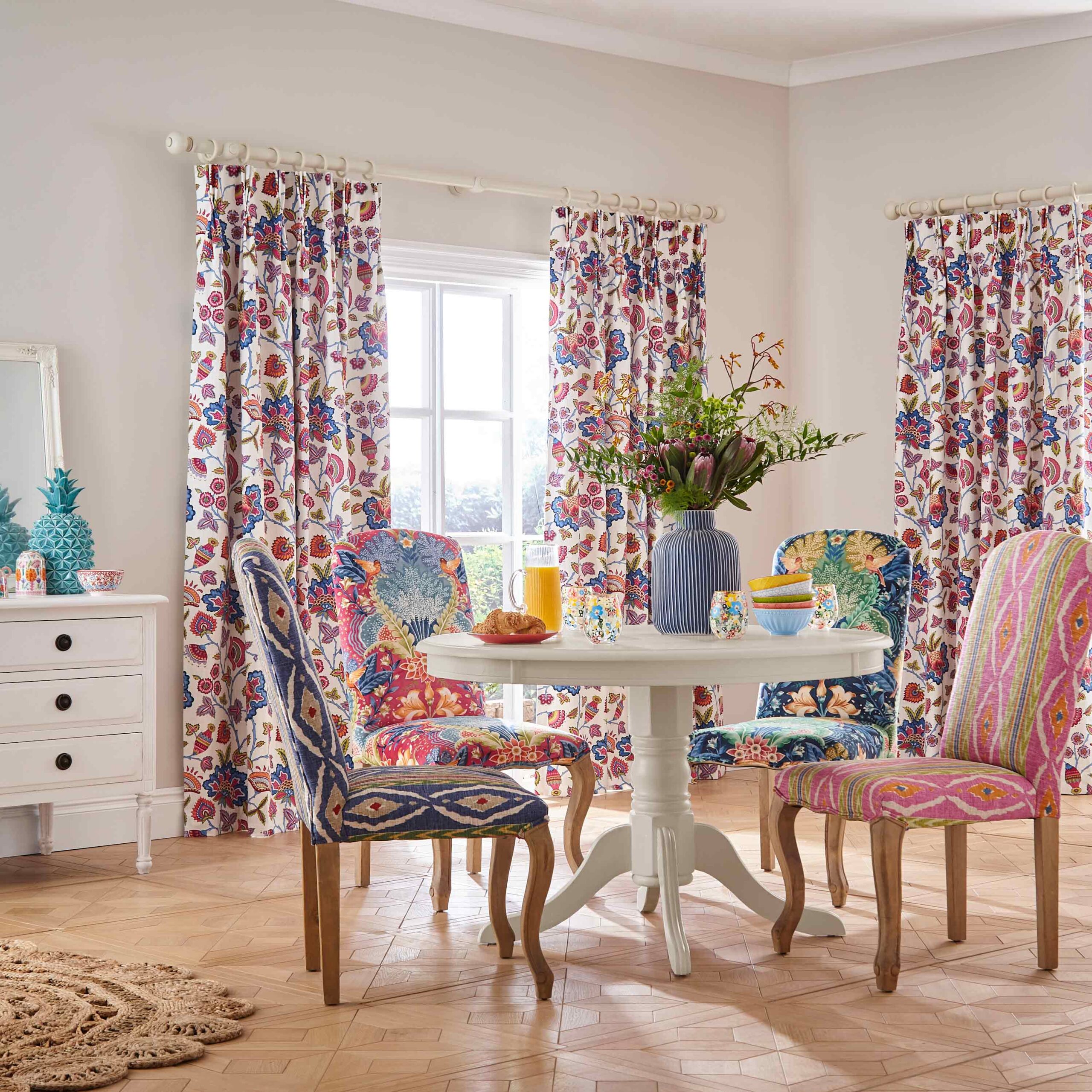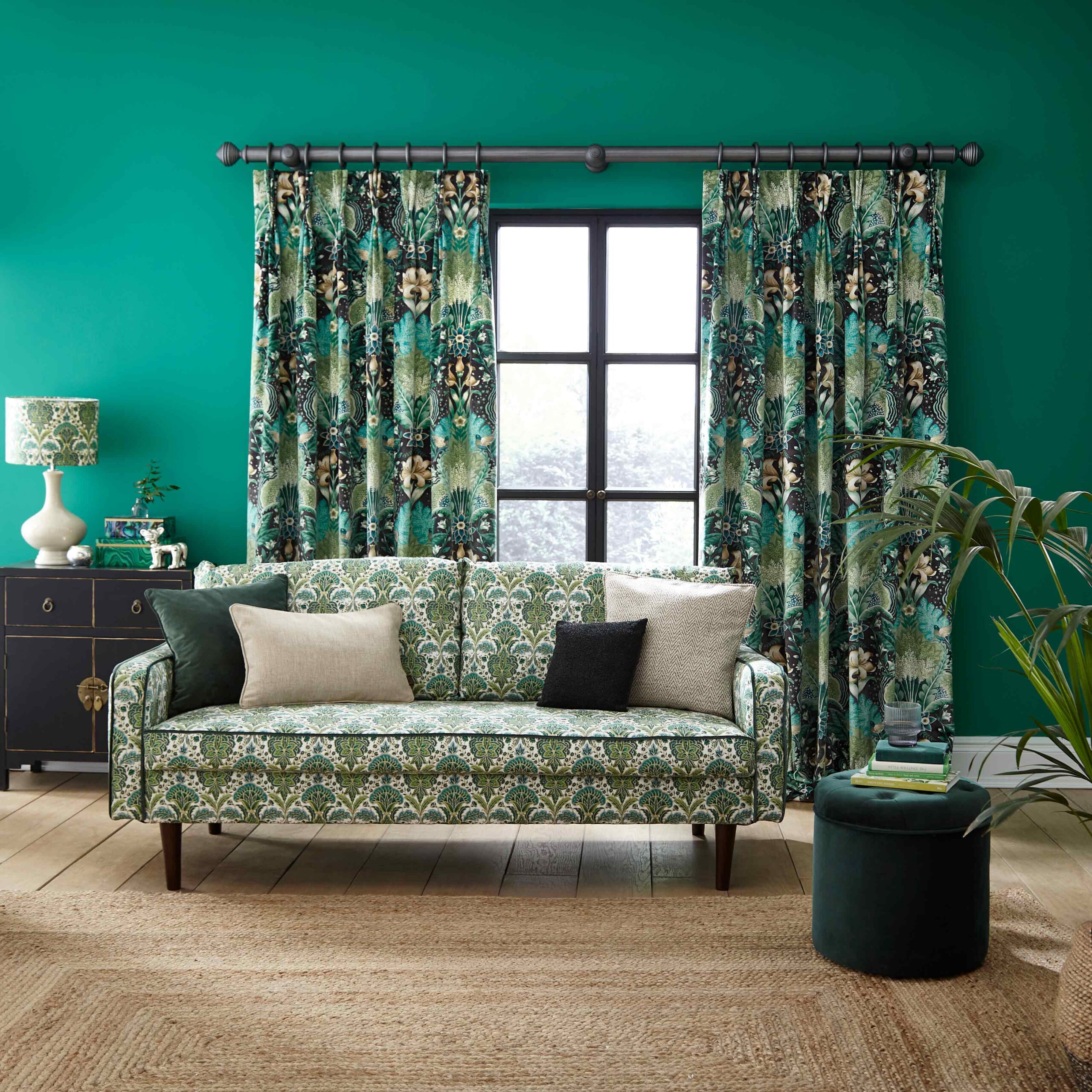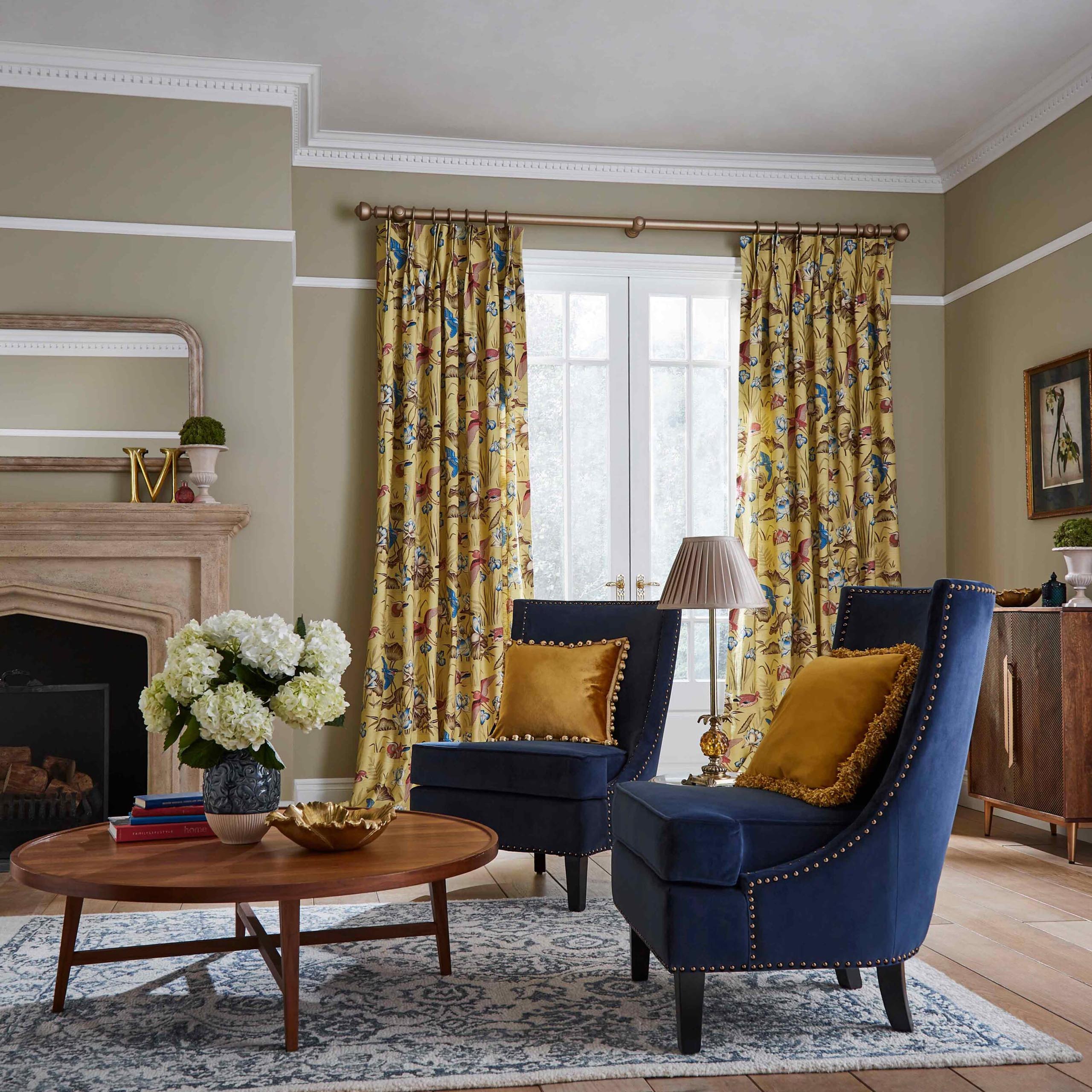 The Collection
The portfolio boasts a sophisticated collection of six archive inspired finial designs, ranging from a classic Ball to decorative Vienna style finials, available in six finishes to suit both classic and contemporary interior styles.  Classic neutral tones in Antique White and Cream Gold sit alongside rich gilded finishes such as Antique Gilt, which combine Dutch metal leaf with modern waxes to give a hard-wearing finish that delivers a truly opulent look.  The poles are hand crafted using the finest woods and traditional methods.  All the wood used in this collection is sourced from forestry commission responsibly managed forests to ensure sustainable use, helping to protect global forests and habitation for animals and birds worldwide.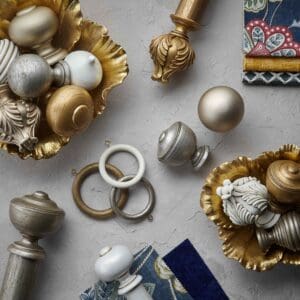 New Florence finial design
The range now features a new Florence finial design; a gentle round finial ideal to complement organic shapes which may feature in your furniture choices.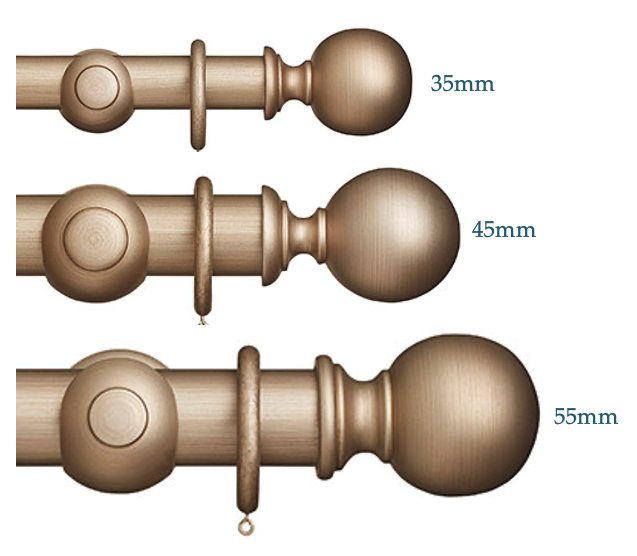 Available in 3 diameters: 35mm, 45mm and 55mm
The Museum collection is available in 3 diameters to offer versatility in its appeal.  The 35mm and 45mm diameters are ideal for standard window widths and heights.  The 45mm and 55mm diameters lend themselves beautifully to extra wide windows and tall ceilings.  The wider diameters balance the proportions of the window size and the room.  Rich fabrics, interlined and made up into double or triple pinch pleat curtains work particularly well on the 45mm and 55mm diameter poles delivering a sophisticated look that is sure to make a design statement at your window!
Available in 6 Finishes
Antique Gilt – delivers an opulent look with its rich metallic highlights bringing an air of glamour to interior schemes.  Hand finished, the Antique Gilt colourway will add an air of luxury to your window dressing with a classic, timeless appeal.
Antique Silver – is suited to both traditional and contemporary environments.  The rich, hand finished patina adds subtle warmth and an air of luxury to your interiors.
Antique White – is the perfect neutral shade to complement a variety of interior design colour schemes. Subtle gold detailing is featured on the collar, on some of the decorative elements in the finials and on the button detail on the wooden cup bracket.
Cream & Gold – a classic creamy finish with a fresh undertone will add warmth to your room.  A delicate gold patina brings a subtle sophistication to your window dressing.
Satin Oyster – a warm golden finish reminiscent of fine champagne!  Satin Oyster is ideal for traditional or contemporary styling, adding a luxurious, elegant finish to your room.
Satin Pewter – delivers a luxurious, rich look.  It complements dark window or door frames and works well with coloured walls, or set against wallpapers in rich jewel colours.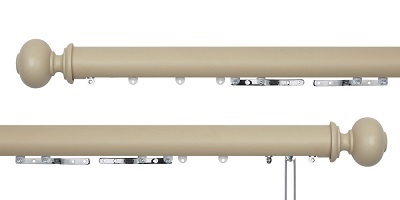 Rolls Museum Tracked Curtain Poles
The Rolls Museum 45mm and 55mm diameters are also available as a tracked pole which can be hand drawn or corded.
This marries the stunning curtain pole collection with the smooth functionality of a premium Silent Gliss curtain track.  The Silent Gliss 6870 curtain track is inserted into a grooved out channel on the underside of the pole for a hand drawn operation, with the Silent Gliss 3870 being used for a corded operation.  All corded poles are made to your exact size.
A corded curtain pole is a popular choice if your curtains are drawing behind furniture and are hard to draw by hand.  They are also a popular choice for delicate or light coloured fabrics so that you can open and close your curtains without touching the fabric to prolong the longevity of your curtains.
A tracked pole also enables the curtain heading to sit much closer to the underside of the pole for a neat finish.  The tracked poles are suitable for pencil pleat, pinch pleat curtains along with the contemporary wave curtain heading style.  Please note for wave curtains the 60mm or 80mm wave gliders will need to be specified when ordering your pole.  Please click here for more information on the wave curtain heading style.
True Colours – Rolls Museum curtain poles painted in a colour of your choice!
For a truly unique look the Rolls Museum range of curtain poles can now be painted in a colour of your choice to co-ordinate perfectly with your interiors.  Shop the 3 diameters available here.  You can specify any of the stunning finial designs and all poles are made to your exact size at no extra cost.  Simply let us know the paint brand and colour or RAL reference and the pole set will be made to your specification details.
This service is ideal if you'd like your curtain pole to co-ordinate with a painted wall colour, or indeed you may wish for the pole to co-ordinate with a painted feature wall providing cohesion in your interior scheme.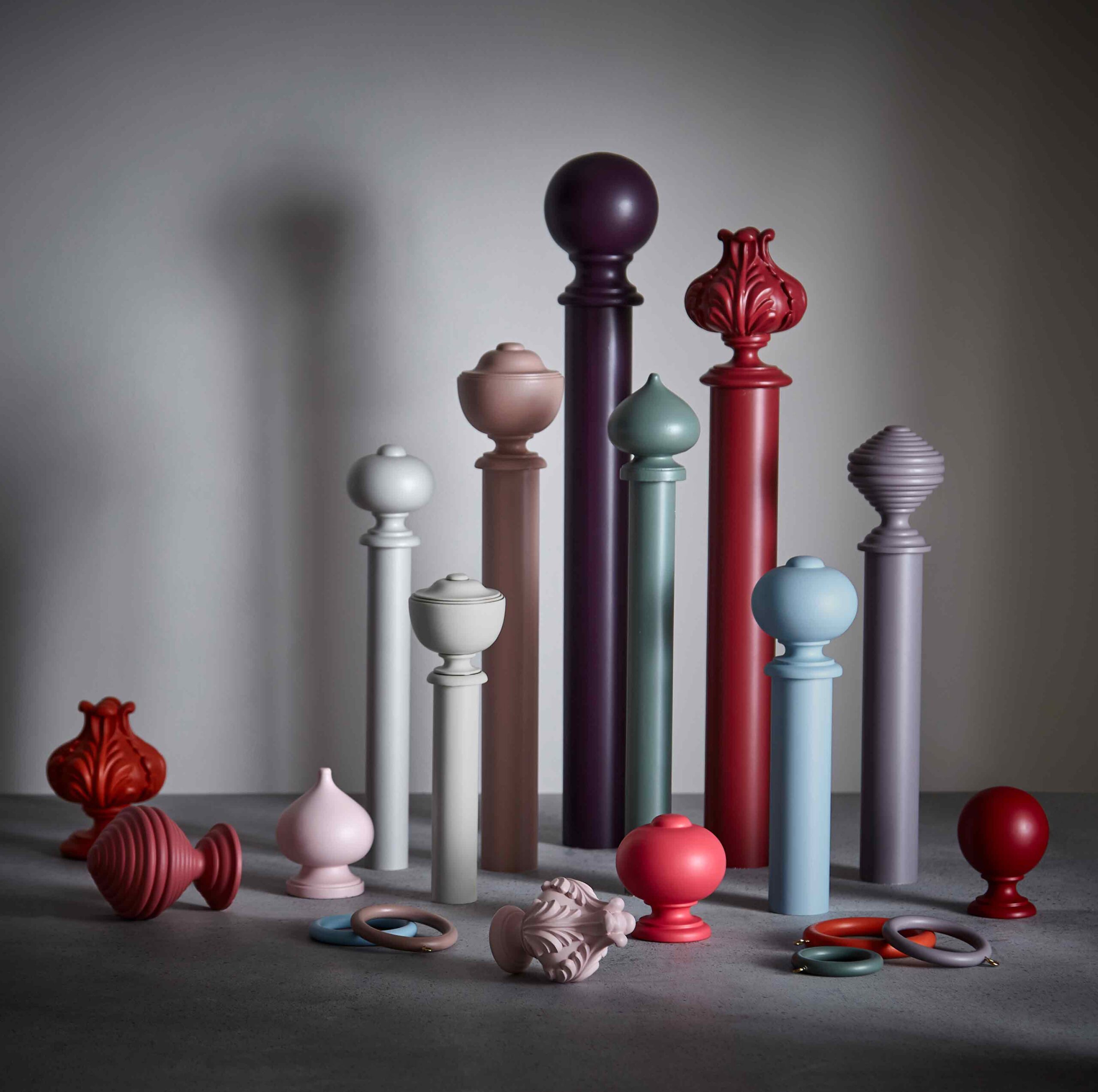 In Conclusion
The Rolls Museum range of wooden curtain poles is truly stunning, balancing sophistication with versatility.  The variety of wood finishes and finial styles ensures the range complements a wide range of interior design colour schemes and styles.  The tracked option and bespoke painted service offers increased versatility enabling you to specify the best product for your requirements.
If you are embarking on a home project and would like any help or inspiration, please do get in touch. We offer a bespoke design service and can provide fabric, design and paint colour advice to help you create a home you love.
Email sales@thehomeofinteriors.co.uk or call us on 01590 615775.
Follow us on Instagram and Facebook: @myhomeofinteriors