Rolls Neo 35mm 3 sided Bay Window Curtain Pole (Eyelet Compatible) with Crackled Glass Ball Finials
We have specified this Rolls Neo 35mm Curtain Pole with Crackled Glass Ball finials especially for 3 sided bay windows.  Suitable for splayed angled bays and 90 degree bays.  Whilst the curtain pole is designed for use with eyelet curtains, it can also be used with rings. Please read our blog article for more information.
The Neo heavyweight brackets are solid diecast providing maximum strength and weight capacity, therefore making them suitable for all curtain weights. The high quality end brackets will also give your pole the support it needs. Once installed, the curtains will hide the bracket backplate. The 26cm corner piece comes as a straight piece.   You can easily bend this by hand in order to suit the angle required for your particular bay window (suitable for all angles and gives a smooth curve around 90 degree bends).
Due to this unique bracket design, you don't need passing brackets or passing rings which makes this one of the smoothest poles on the market for bay shaped windows.  The flexible corner piece also ensures curtain rings or eyelets move smoothly around the bends.
The manufacturer has also conducted tests on the weight allowance of these poles up to a fitting height of 286cm for a splayed 135 degree corner window, and up to a fitting height of 230cm for 90 degree bends.
How to shop this Rolls Neo 35mm Bay Window Curtain Pole with The Home Of Interiors:
As bay windows are different sizes, we have set up this product so you can specify the pole lengths and choose the best bracket options for your requirements.  You can also add rings should your curtains require curtain rings (sold in packs of 6).
What we include in the pole kits:
We include a pair of finials and two corner pieces in each pole kit.  We will then add the poles, brackets and rings you specify through the selections above.  The Neo Crackled Glass Ball style finials come with this pole kit.
The Home Of Interiors Recommendations: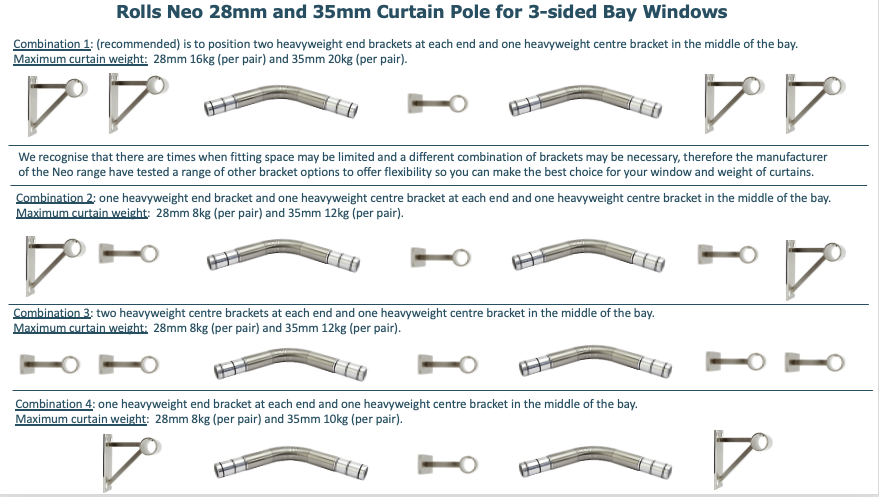 Please view gallery images for how to position 2 brackets at the ends of the poles.
This Rolls Neo 35mm Bay Window Curtain Pole is available with all of the Neo finials and is available in a 28mm and 35mm diameter. (Please note we recommend 40mm eyelets on 28mm poles and 50mm eyelets on 35mm poles). Please contact us on 01590 615775 if you have any questions or need any advice. For more information, you can also view our video on the Rolls Neo Bay window curtain poles here.