Clarke & Clarke have teamed up with artist Emma J Shipley to offer a magical and exotic range of coordinating products including fabrics, wall coverings, bedding, home accessories and furniture, incorporating rich velvets, luxurious satins and shimmering effects to create a statement look.
Transform your room into a surreal African landscape with the Zambezi design, featuring a striking scene of creatures, both real and imaginary. Inspired by adventure stories, this exotic creation will add a safari twist to your bed or sofa in an instant.
This boudoir style pillowcase creates a stylish finish to your bed when mixed with the other styles of pillow cases.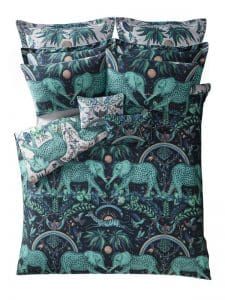 Shop co-ordinating products in accessories.