Wave Curtain Accessories
Wave Workroom Essentials
Wave is a neat and stylish curtain heading system by Silent Gliss. It is created through combining a specially designed heading tape and Wave glider-cord to get a soft and simple continuous wave effect.
The finished look is similar to that of eyelet curtains but fabric hangs directly below the track in a neat and uniform style. Wave has some key advantages over traditional curtain heading systems:
Minimised curtain stack
Simple curtain dressing
Form throughout the curtain drop
Minimalist appearance
Suits traditional and modern interiors
Compatible with pelmets
Fabric Suitability
There is no standard test that will indicate whether a fabric is suitable for Wave. However, experience suggests it is normally suitable for:
Voiles – Lined cotton
Interlined Silk – Blackout lining
Borders
The soft curves of Wave do not lend themselves to:
Stiff fabrics
Heavy embroidery
Irregular vertical stripes
Metallic threads
We recommend a simple test to indicate whether Wave will be suitable (see image below). Hold the top of the fabric in this way and see if the curtain follows a soft wave pattern without too much effort. Even Wave curtains will need some dressing and training. The extent of this will depend on the flexibility of the weave of the fabric chosen.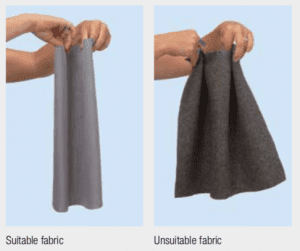 Wave Curtain Workroom Accessories
When specified, Silent Gliss Wave tracks are supplied with the Wave glider already included (these tracks are all available with standard gliders). You will need to have the following workroom accessories available to make the wave curtain itself:
Wave Heading Tape 6349
Wave Iron on Tape 6363
Curtain Side Weight 10076 (optional)
Curtain Weight Cord 10075 (optional)
Extension arm and Carrier 6364/6365
Adjustable Brake 2255
Adjustable Brake / Draw Rod Carrier 6366