Our colour of the month is black, a colour that absorbs all light. It partners with white to create a dramatic monochrome effect. This classic interior style has been particularly prevalent in kitchens and bathrooms and provides the perfect backdrop for flashes of bright, contrasting colours. The monochrome look creates a striking impact which can change the feeling of light and space in your home.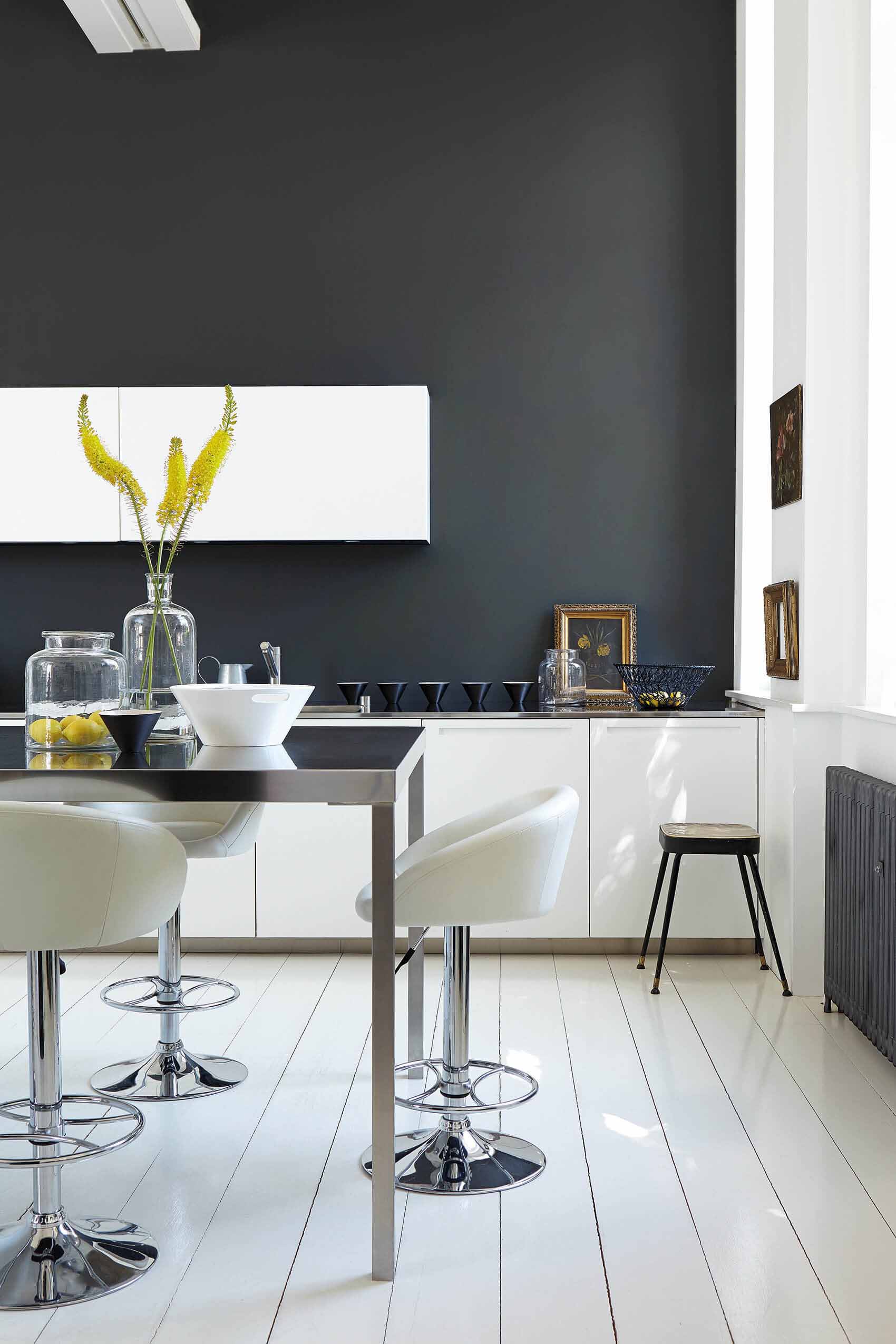 Tones
Black encompasses many tones including brown black, deep midnight blue black and grey charcoal black. In the image above, Little Greene Lamp Black (228), a soft off-black colour, has been used to create a sleek back drop and contemporary interior.
Paints
Little Greene Paints
In the paint palettes below, Little Greene have used Lamp Black (228) in Image 1 with toning and contrasting shades to showcase it. In Image 2, Little Green have used Jack Black (119) which is an absolute black and suggested colours to complement it. Black is extremely versatile as a colour and will go with almost any colour scheme selected.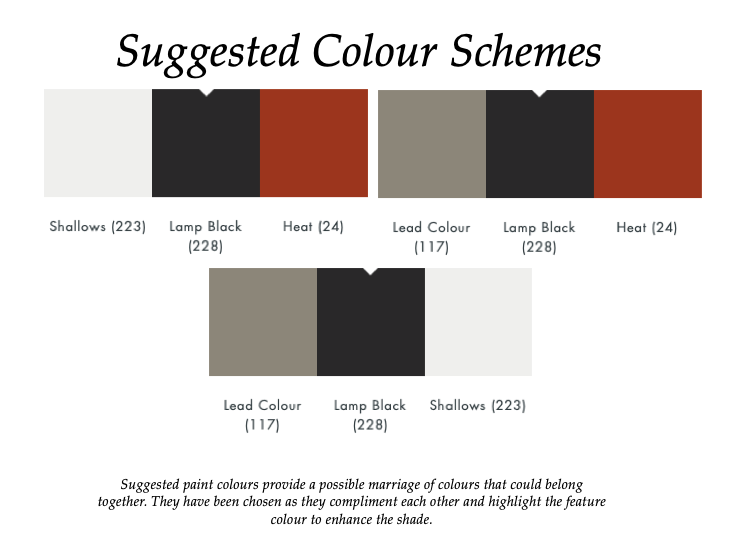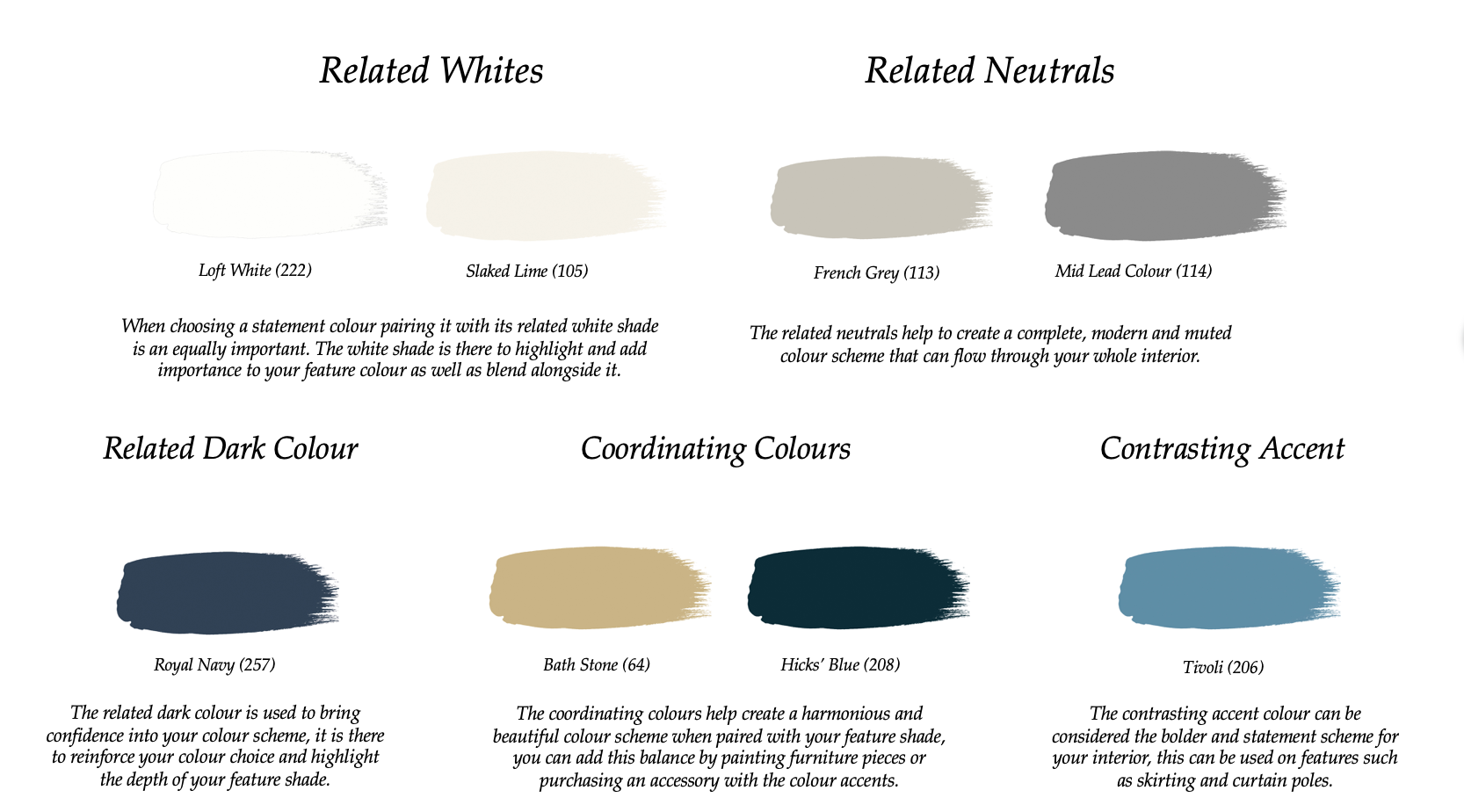 Sanderson Paints
Sanderson offers a dramatic off-black tone called Carbon. This is a powerful shade with mineral undertones (Image 1). A more subtle, saturated shade of black is the Burn Black Light. This has deep charcoal pigments (Image 2).
Zoffany Paints
Zoffany's Bone Black is a rich black with red highlights. It is a soft, yet impactful colour which introduces a striking element to interiors (Image 3).



Wallpapers
Bold statement patterns including floral, geometric and  abstract can be introduced with complementary or contrasting wallpapers. Little Greene's collection includes Fern Wallpaper in Black (Image opposite), Albermarle St in Charcoal and the Lavaliers Wallpaper in Cinder.
Please see our wallpaper collection for the full range available. We offer a range of designs from Little Greene, Sanderson, Harlequin and Clarke & Clarke.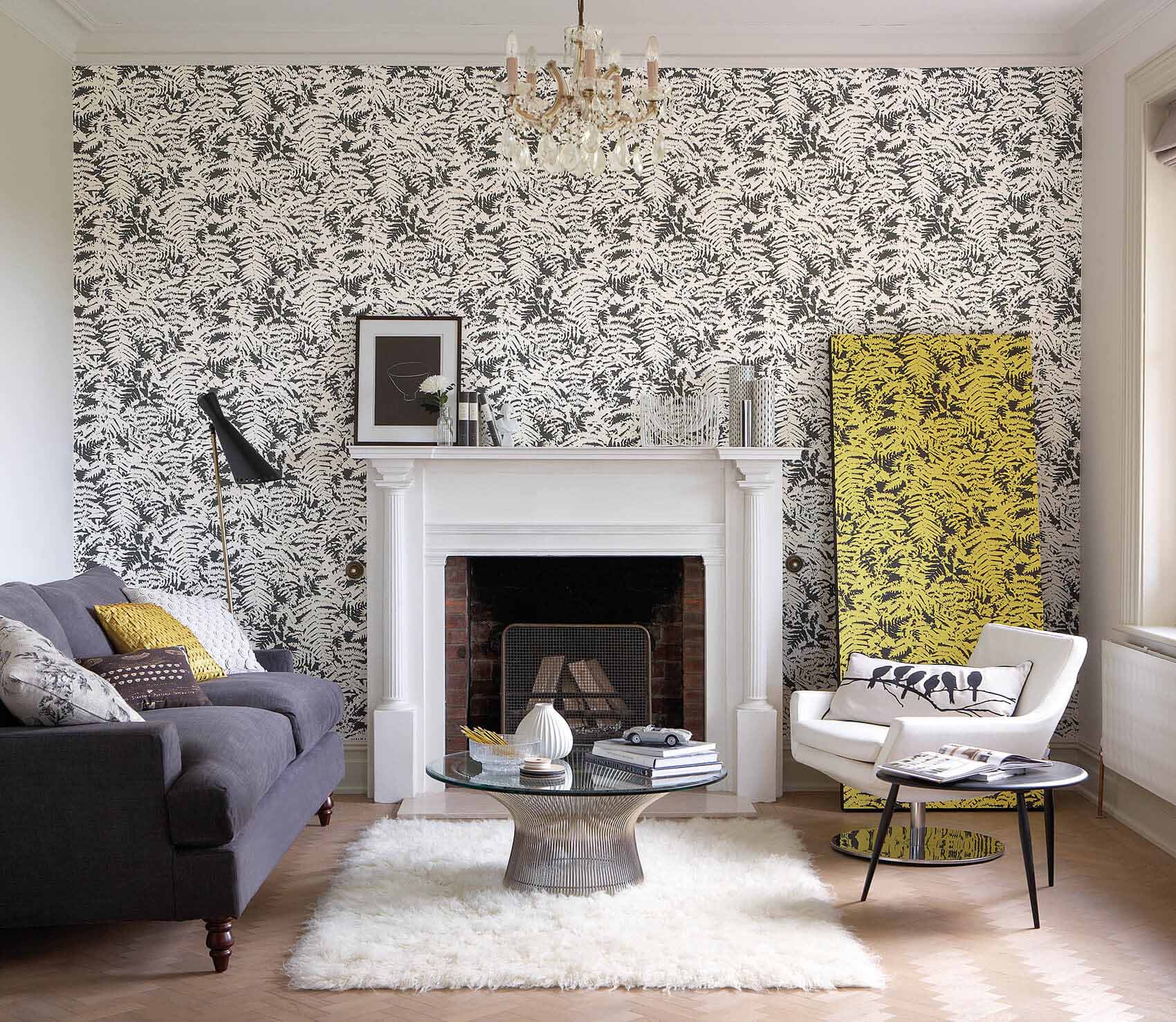 Curtains, Blinds and Fabrics
For the perfect window dressing, you can choose your fabric for our Made to Measure Roman Blinds or Curtains. We offer a wide variety of headings including a contemporary wave heading or a more traditional goblet, pencil pleat, triple or double pinch pleat.
You can also select fabric by the metre from a range of design houses. These include Sanderson, Scion, Anthropology, Harlequin, Morris & Co and Clarke & Clarke, amongst many others. The Clarke & Clarke fabrics in the Lusso 2 Collection work perfectly with a monochrome colour scheme. These fabric designs were inspired by the Art Deco movement. Included in the collection are the Geometric Fascino (Image 1) and Struttura fabrics (Image 2) both available in the Nero colour way.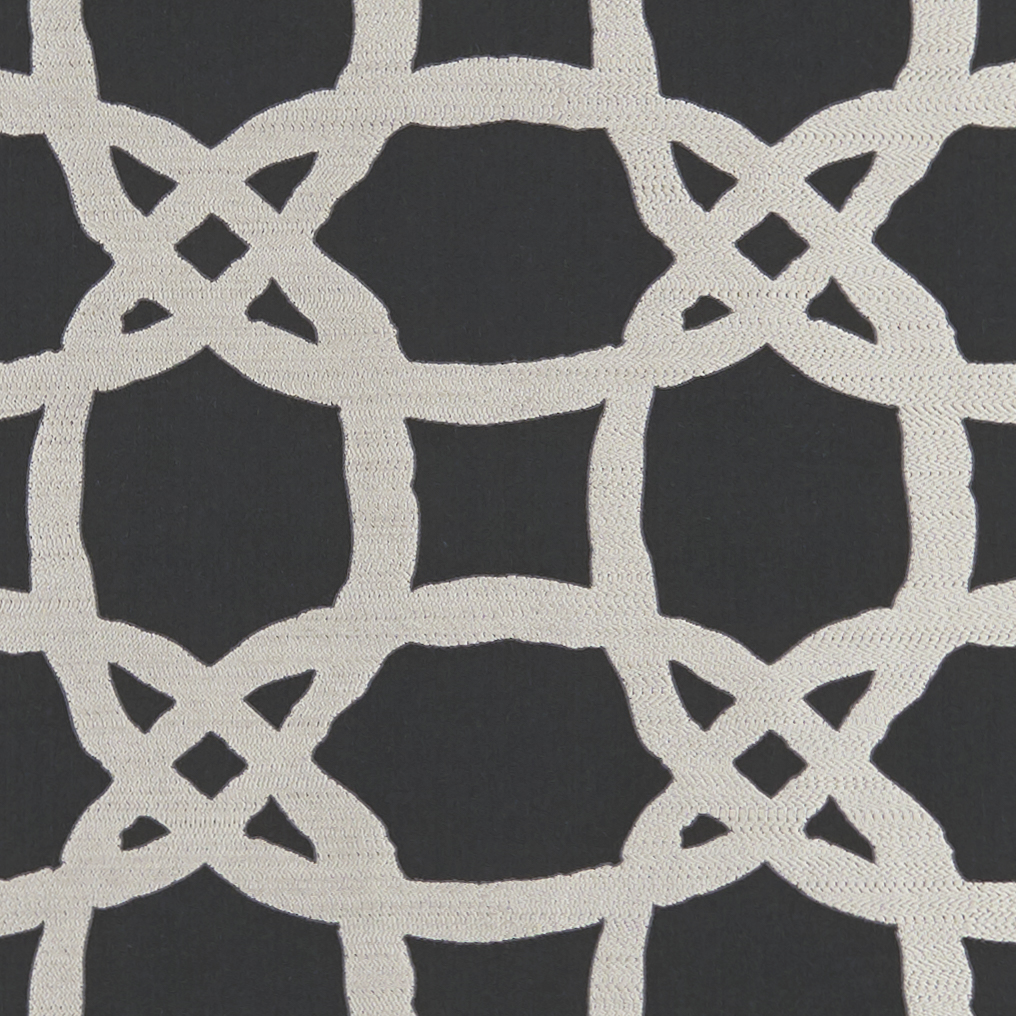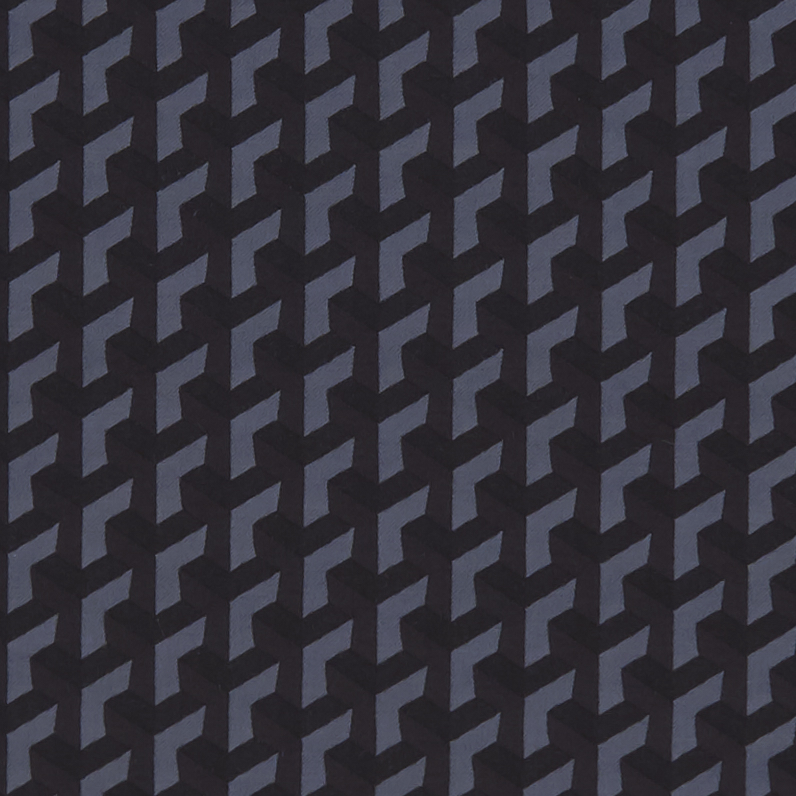 Black is a striking colour and used in the different quantities, tones and lights, suits both traditional and contemporary interiors. It brings a classic elegance to a room scheme and sits in harmony with shades of white and bold, contrasting colours alike.
Please contact us if you would like any advice on paint or fabric choices, swatches, pole ring samples or any other samples.
Email: sales@thehomeofinteriors.co.uk or give us a call on 01590 615775.