The living room is an essential part of the home, so it's important to make it a room that you love spending time in. A place where we gather to relax, watch TV, entertain and connect with loved ones, this space should exude style and comfort in a way that brings calm and warmth to your every day life.
Whether your living room is part of an open plan layout or you have a separate small living space that you can retreat to, carefully considered colour, accessories and soft furnishings can help bring this space to life, creating a cosy and inviting scheme to indulge in. To help get you started, we've pulled together some living room styling inspiration and tips below, guided by some of the top current interior design trends for 2023!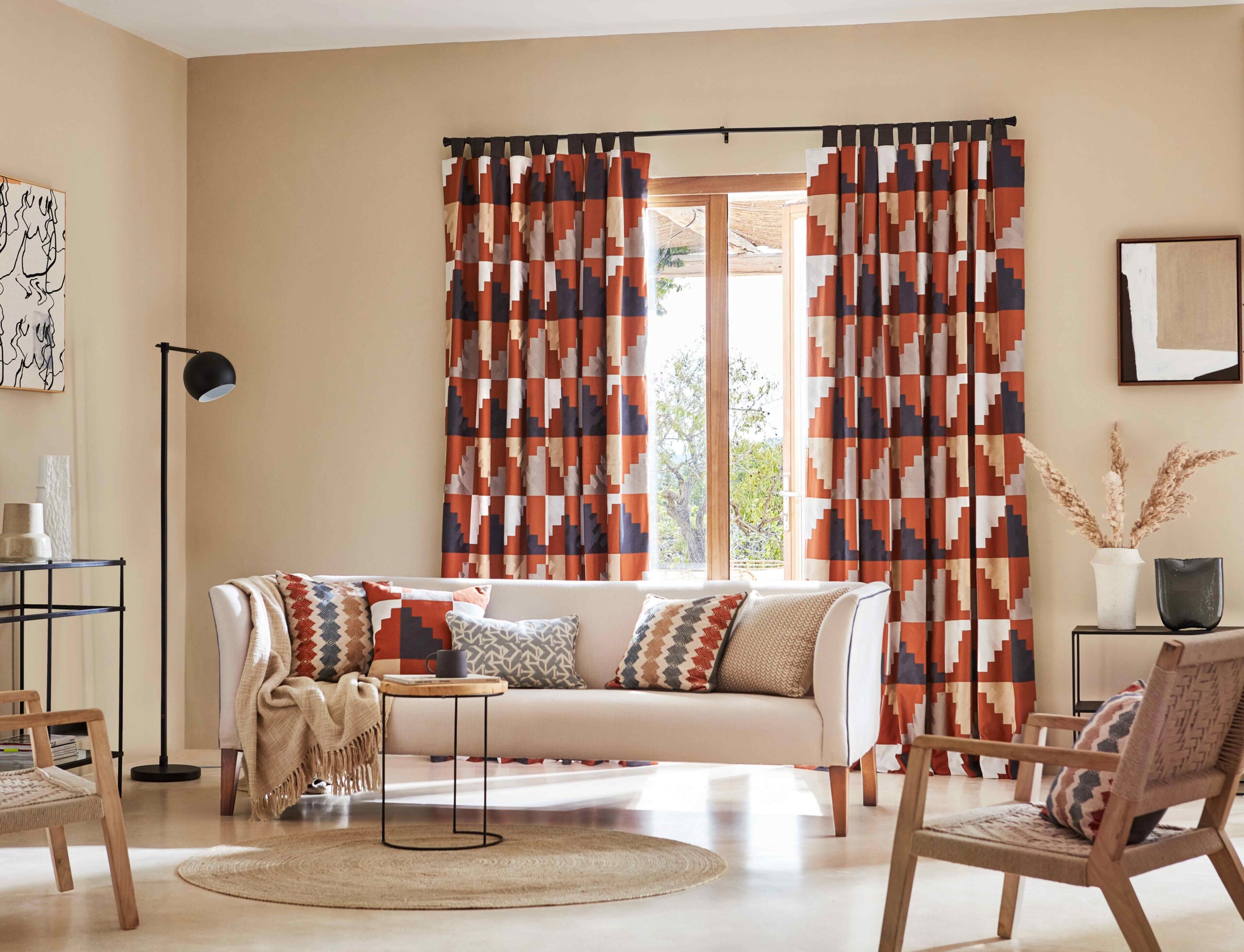 Harlequin Image: Features Mirador Fabric Collection
Paint
Begin your cosy scheme with a fresh new paint colour for your walls, ceilings and woodwork. Neutral colours have always been a popular choice for living rooms and 2023 is no exception. As trends have shifted towards warmer, more inviting neutrals, beige, taupe and griege have become the go-to colour schemes, bringing a sense of calm, tranquility and timelessness that can transform your living room into a true oasis. We particularly love the Little Greene Travertine (319) paint, shown on the panelling in image 1 below.
If your style is more confident, don't be afraid to experiment with colour and find a palette you love! Rich earthy tones such as green, brown, and terracotta work well to create a warm and inviting atmosphere that connects with the natural world. In line with the biophilic trend, these nature-inspired colours can help to uplift and refresh your space and mood. See image 2 below for inspiration. Soft pink hues such as Little Greene's Masquerade (334) shown in image 3 below or restful sky blues reminiscent of coastal bliss are other stunning choices. Shop our full range of paints here.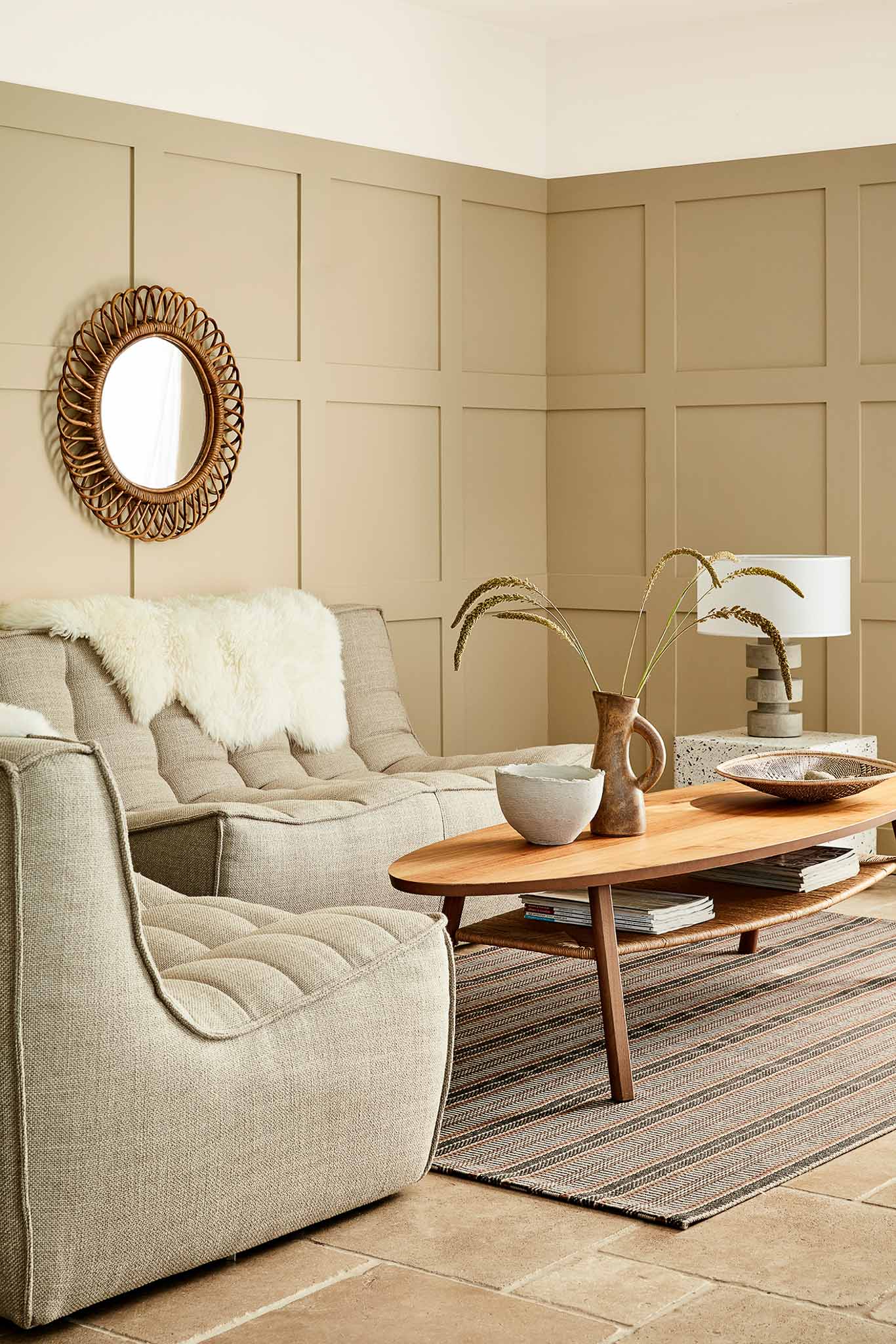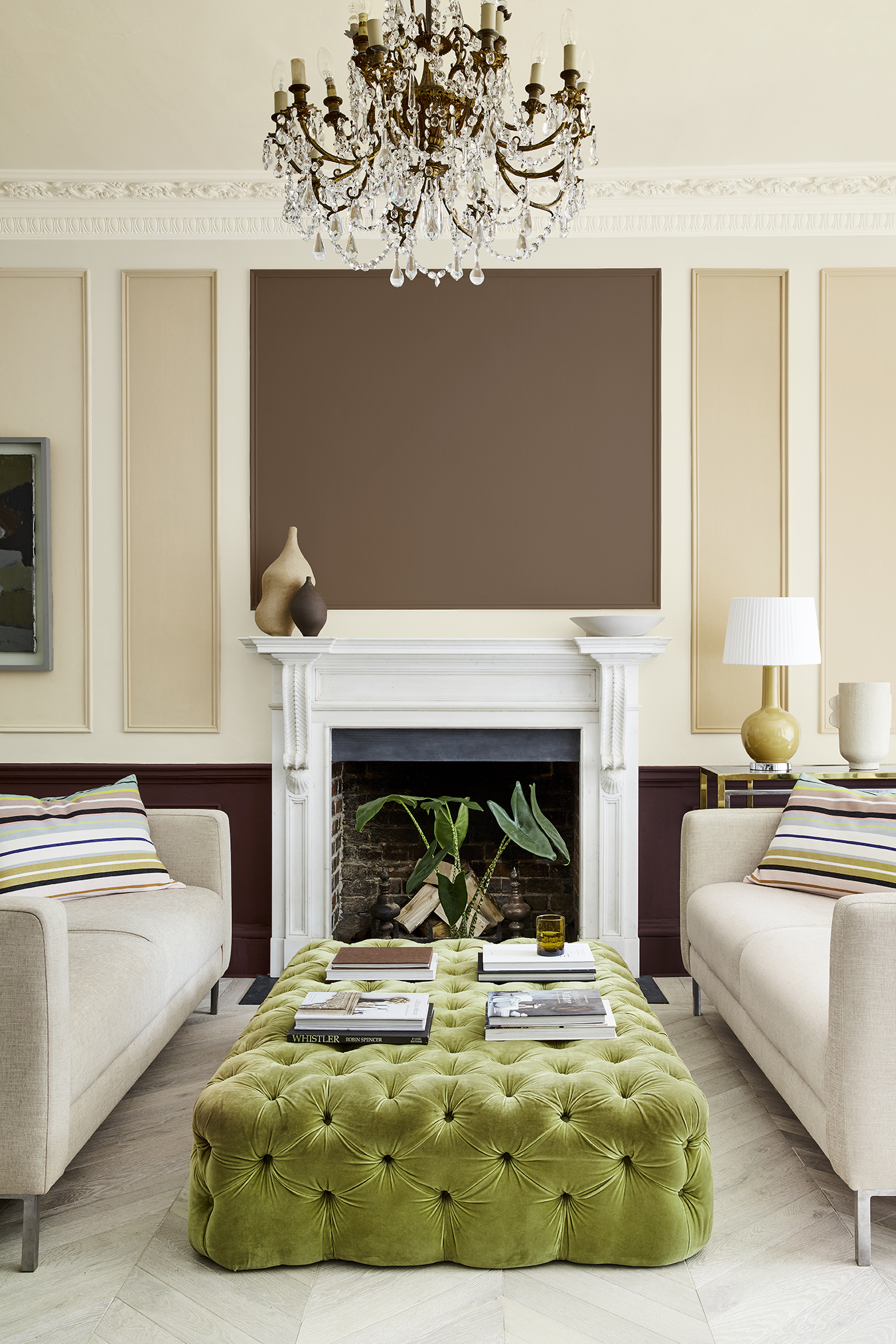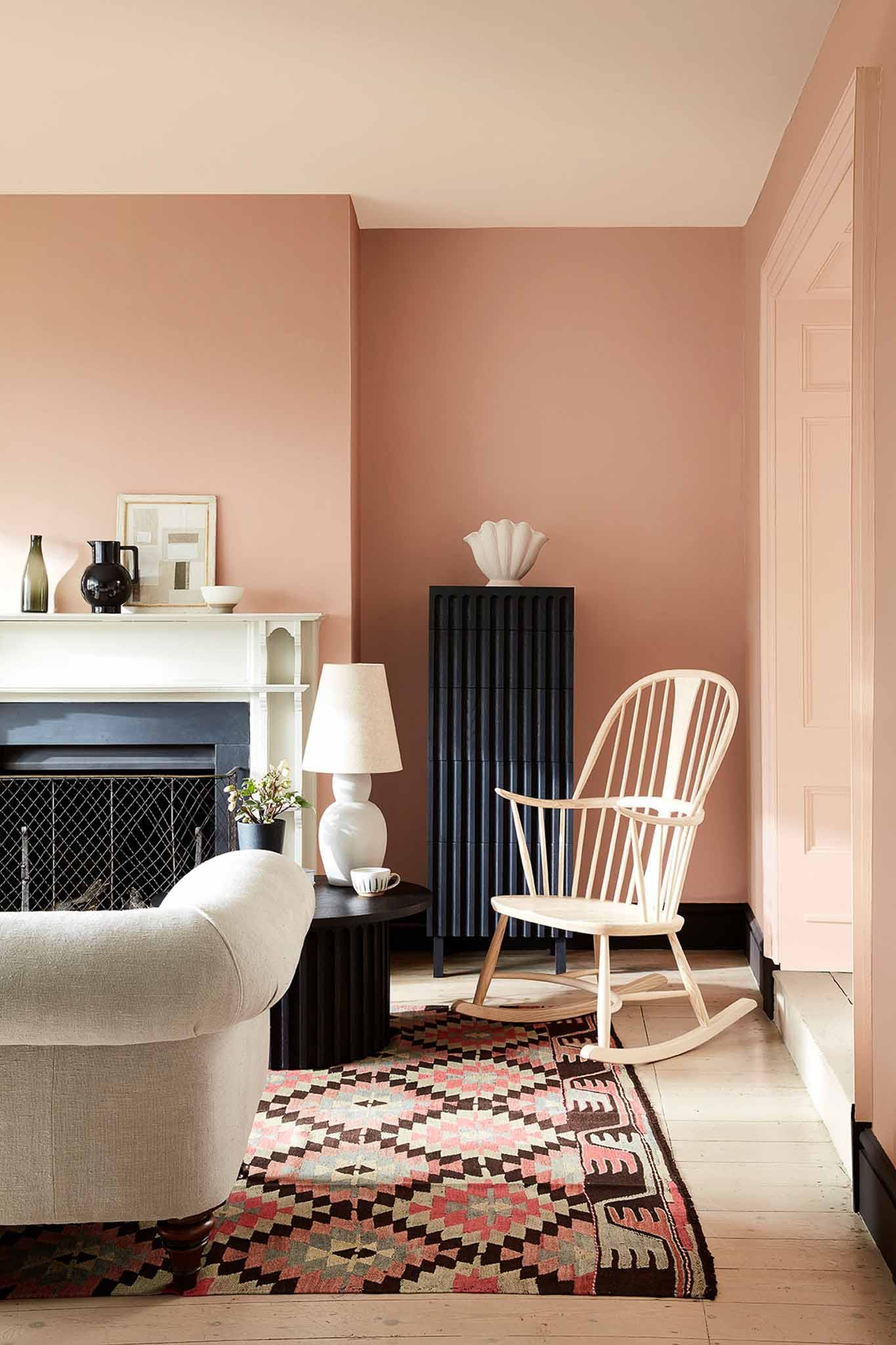 Little Greene Image: Features Travertine Paint (319) and Stock Paint (37).
Little Greene Image: Features Scullery Paint (318), Lute Paint (317), Clay Mid Paint (153) and Purple Brown Paint (8).
Little Greene Image: Features Masquerade Paint (334), Masquerade Mid Paint (333) and Julie's Dream Paint (26).
Wallpaper
Alternatively, you could add a touch of pattern, texture and additional colour through a beautiful wallpaper. Whether you apply a graphic design to all the walls or create a stunning accent wall with a coordinating paint colour, you can be sure this form of decor will add character, charm and personality to the space to reflect your unique style. Equally, you could get creative with some wallpapered panelling, a stunning and effective trend that has arisen in the interior design world.
For a moody aesthetic, consider the Little Greene Beech Nut wallpaper in Cordoba from the beautiful National Trust Papers II Collection (image 1 below). Bold and dramatic, this nature-inspired wallpaper complements the biophilic theme in warm and inviting tones. We also love the Clarke & Clarke Vivido Dipinto wallpaper in Natural for a more luxe, neutral scheme (image 2 below), or the Harlequin Colour 4 Florent wallpaper, shown below (image 3) in the Positano/Maple/Graphite colour way.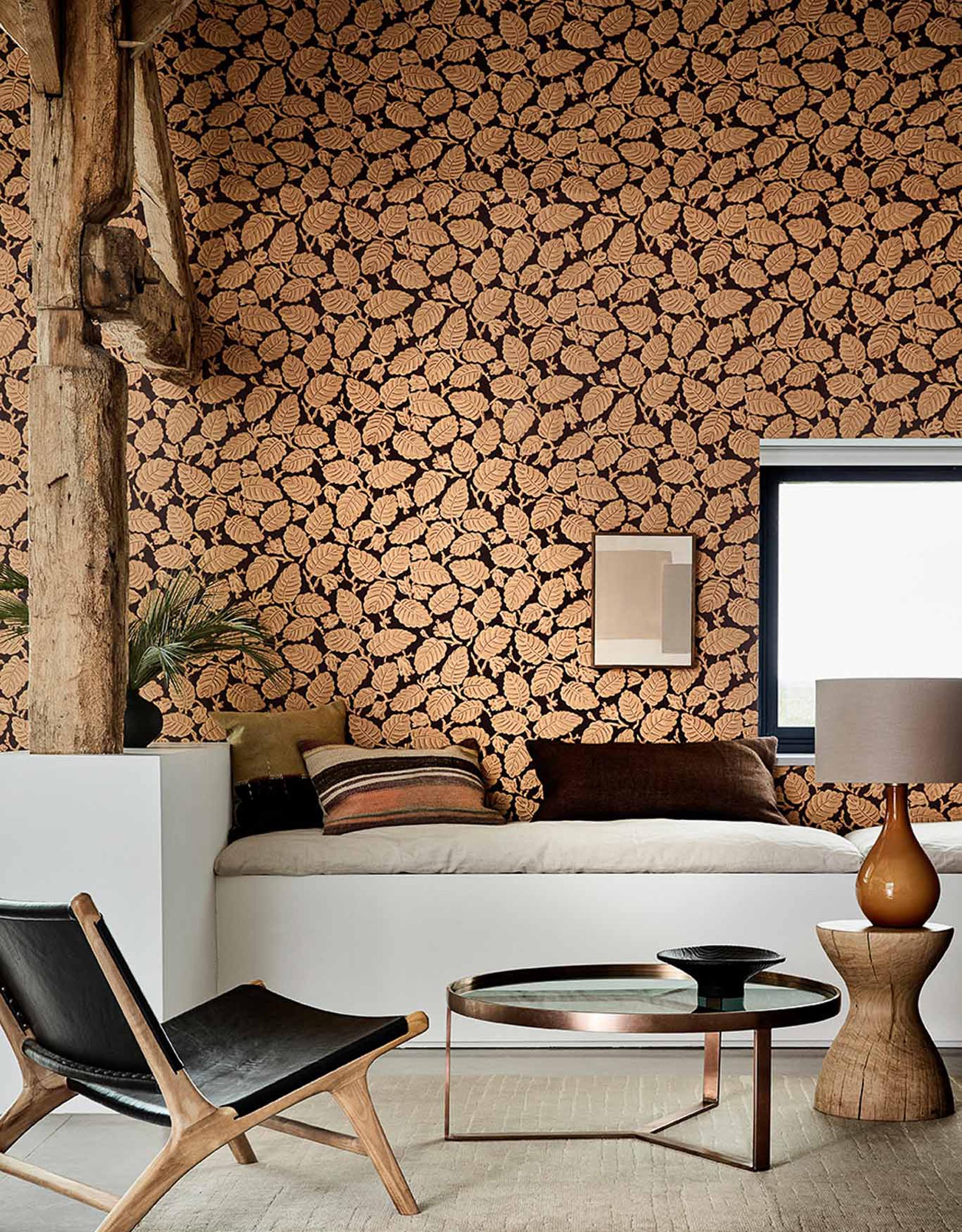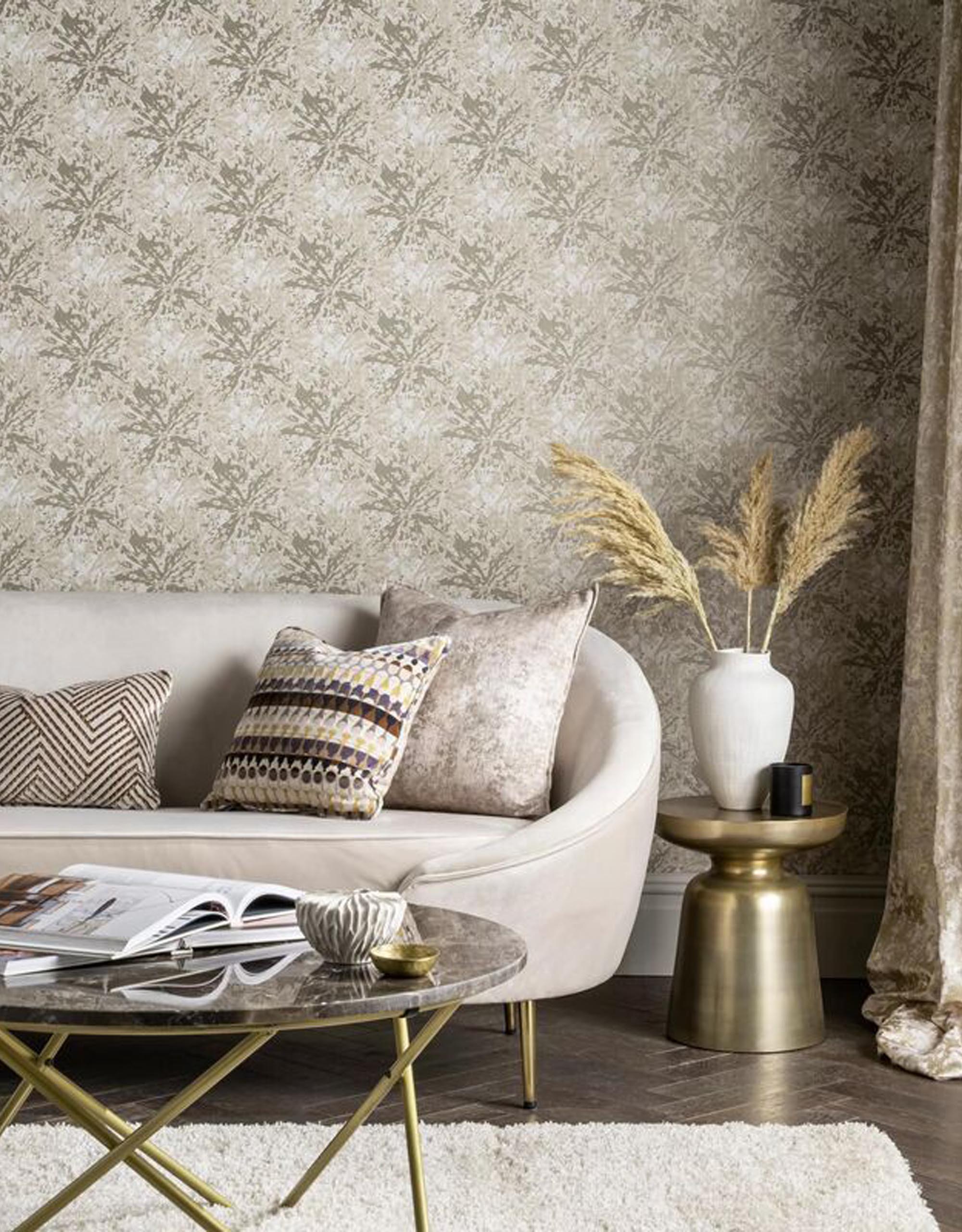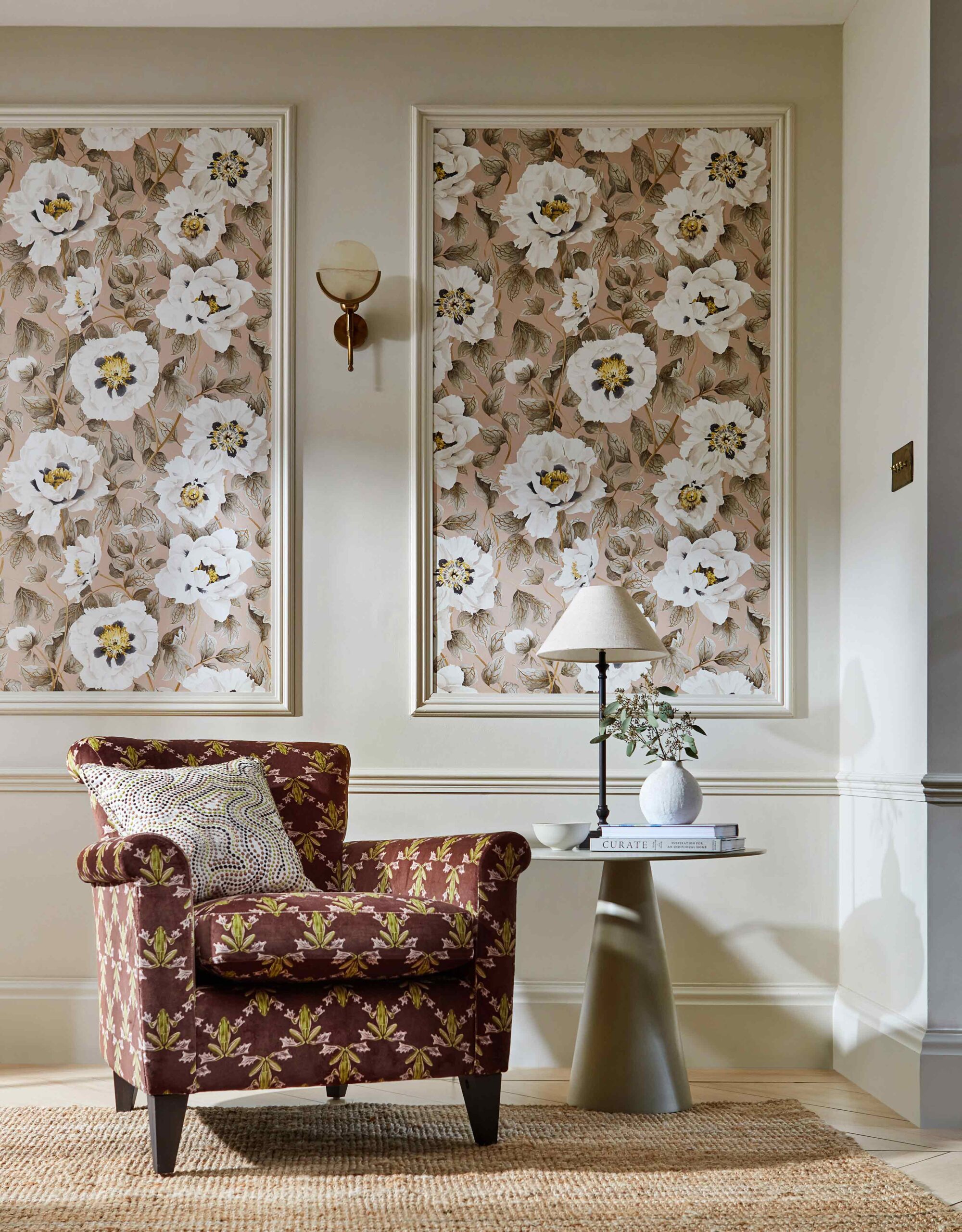 Little Greene Image: Features Beech Nut Wallpaper in Cordoba from the National Trust Papers II Collection. 
Clarke & Clarke Image: Features Dipinto Wallpaper in Natural from the Vivido Collection. 
Harlequin Image: Features Florent Wallpaper in Positano/Maple/Graphite from the Colour 4 Collection. 
Fabrics
This year, velvet fabrics continue to thrive as the desire for rich textures dominates living room trends. Boucle is another popular addition, enriched with cosy texture and softness. Sustainability has also become an important consideration in living room design. Look for soft furnishings and furniture made from recycled materials or natural fibres.
Curtains and Blinds
A superb window dressing can really help to achieve that homely and inviting feel. Perfect for living room settings, a curtain or roman blind can help to soften the space whilst adding warmth and privacy. Discover our wide selection of ready made curtains with varying headings and linings to suit your style and requirements.
Equally, if you would prefer a made to measure solution in your choice of fabric, we are delighted to offer a bespoke, made to measure curtain and roman blind making service to help realise your vision. Choose from a wide selection of fabrics from luxury fabric houses, available with the option of designer and premium linings including thermal solutions to help reduce draughts and retain heat. For added warmth and cosiness, consider layering your window dressings. Layering a curtain with a sheer / voile behind can help to keep the room warm and reduce glare whilst adding privacy and shading flexibility throughout the day.
If you choose to wallpaper your walls, we would recommend keeping your soft furnishings plain and complementary, perhaps picking up on colour accents within the design for a harmonised look. The Clarke & Clarke Riva eco velvet is a fantastic go to. Available across a palette of 25 shades for universal appeal, this fabric is made entirely from recycled plastic whilst retaining a luxurious softness. Alternatively, the eco Studio G Cetara fabric would work beautifully with its semi-plain design and tactile quality or the Clarke & Clarke Lazio fabric, made from 100% linen for an airy, natural feel (see image opposite).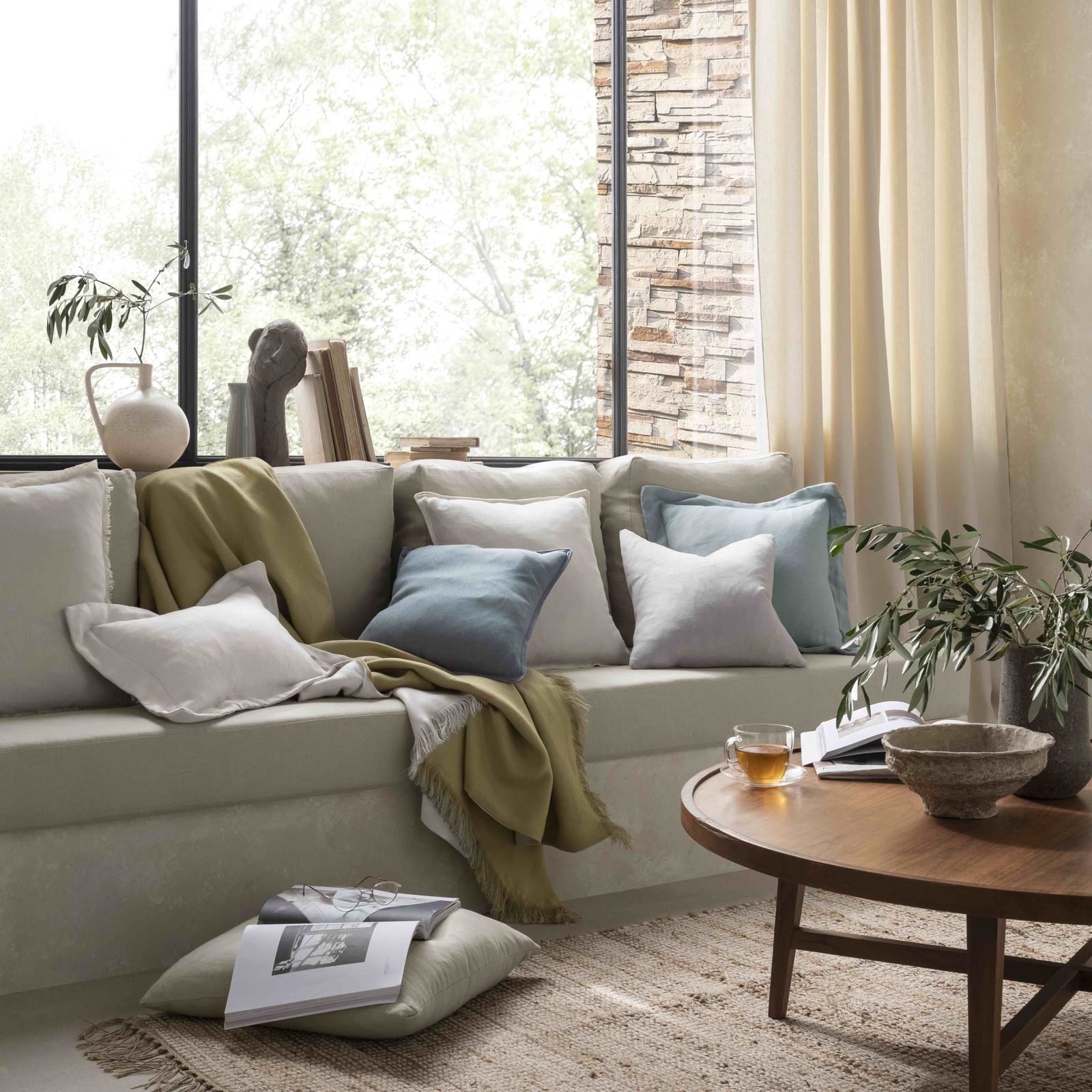 If you choose to keep your walls plain, you may wish to consider a patterned design for added interest and character. Choose the Prestigious Textiles Fraction fabric for a modern, parred back look (image 1 below) or add a touch of traditional and natural charm with the Morris & Co. Seasons by May embroidery from the heritage-inspired Melsetter collection (image 2 below).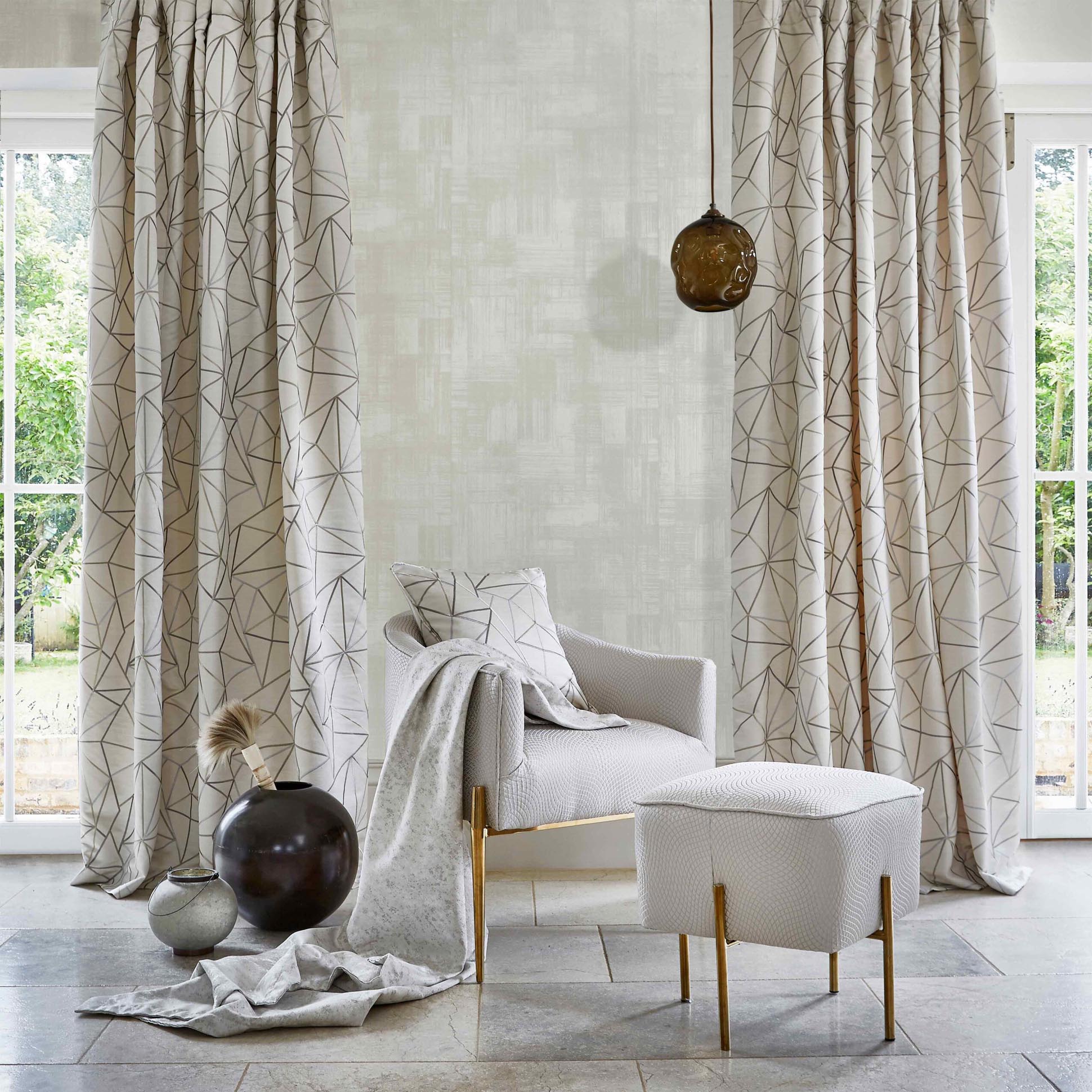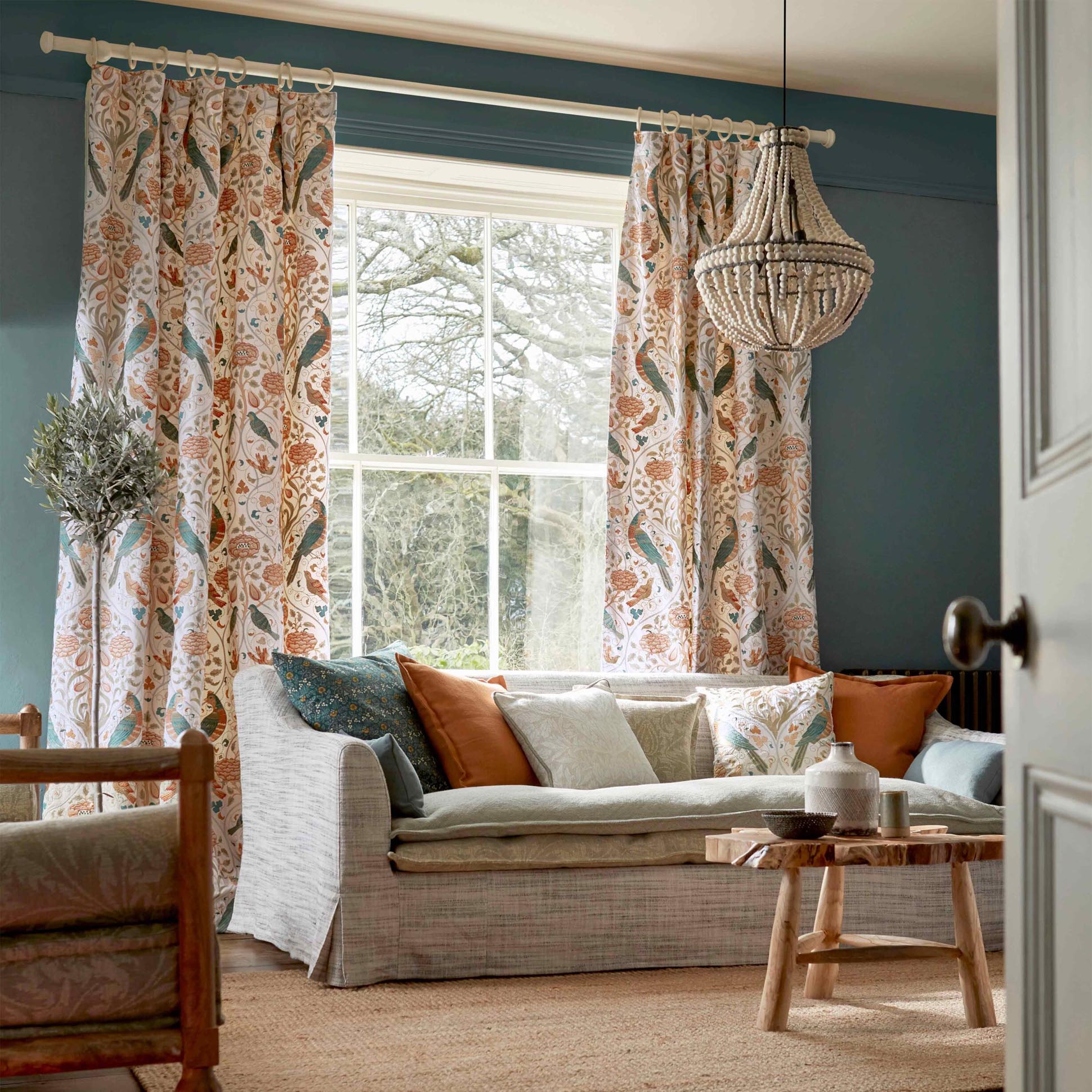 Prestigious Textiles Image: Features Fraction Fabric from the Dimension Weaves Collection.
Morris & Co. Image: Features Seasons by May Embroidery Fabric in Sea glass / Brick from the Melsetter Collection.
Furniture
Add a sumptuous sofa or piece of upholstered furniture in a luxurious boucle fabric to help lift your scheme. This will bring an air of comfortable luxury to the space for a soft and inviting feel. The Prestigious Textiles Fergus fabric from the richly textured Campbell collection (image 1 below) and the Andes or Everest fabrics from the Warwick Boucle collection are beautiful examples, suitable for upholstery applications. Velvets also works well for sofas and accent chairs. Consider a soft plain velvet in jewel tones for a real statement piece to help accentuate your scheme.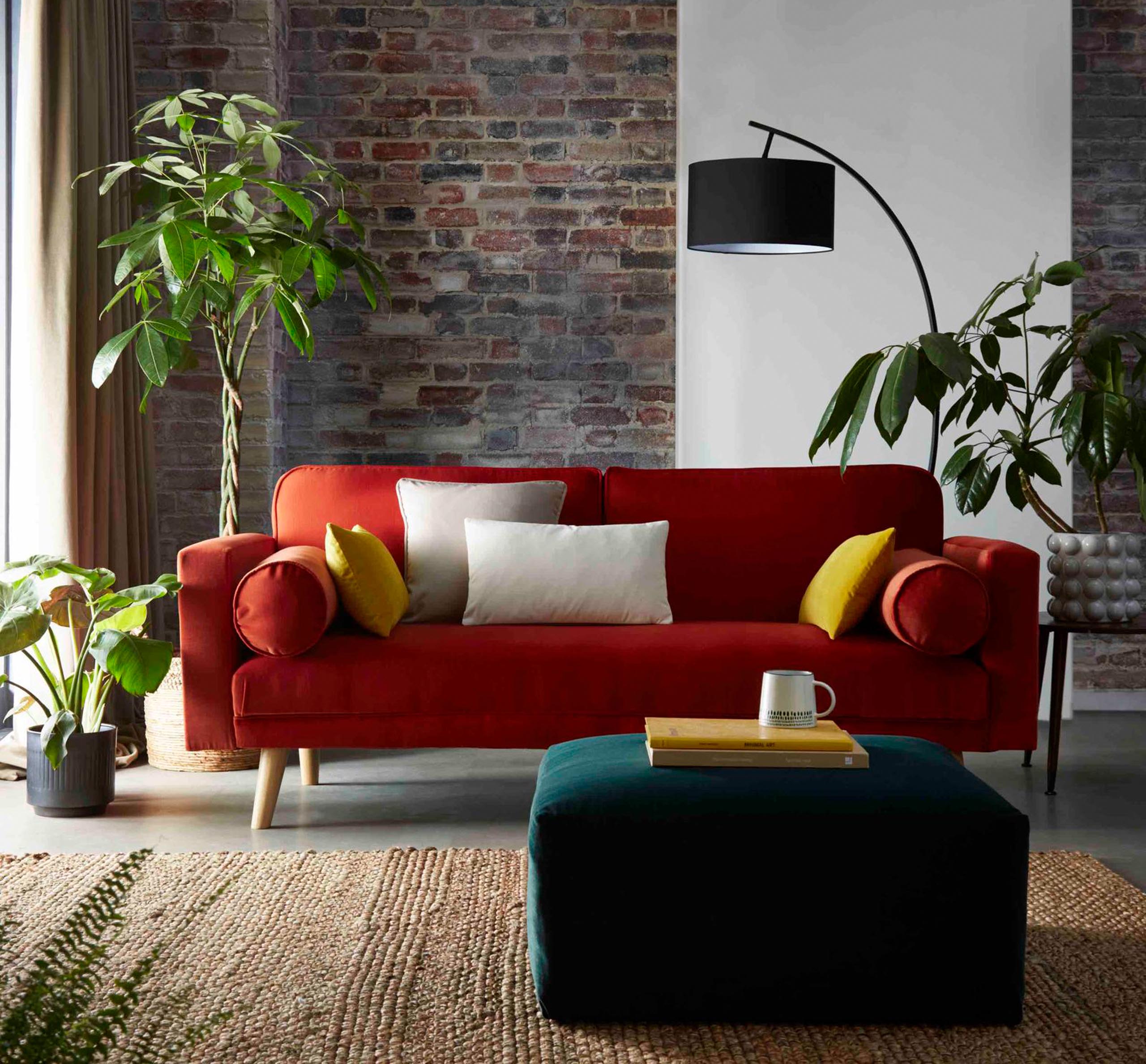 Prestigious Textiles Image: Features Fergus Fabric from the Campbell Collection. 
Clarke & Clarke Image: Features Riva Velvet Fabric from the Clarke & Clarke eco portfolio. 
Alternatively, if you resonate with the maximalist style, you could go bold and match your upholstery with your patterned window dressing. We also offer a wide selection of ready made accent chairs from Clarke & Clarke and Emma J Shipley, beautifully designed to coordinate with the fabric collections for a cohesive finish. Maximalism is all about embracing more is more, layering colours, patterns, and textures to create a visually stimulating space. If you're not afraid of a little bold, maximalism is a great way to make your living room feel truly unique.
Accessories
The finishing touches are just as important to help bring the look together. Start by adding some comfortable and relaxing curved furniture like sofas, chairs and coffee tables to add a touch of elegance and sophistication to the room. On trend for 2023, curved features help to create a more flowing and inviting space with an organic undertone. Some statement warm lighting such as a chandelier, pendant light, floor or table lamp can also make a big impact in your living room.
Don't forget to add your own personal touches. This could include family photos, artwork, or souvenirs from your travels. These personal touches will help to make your living room a reflection of your unique style and personality so it feels truly your own. Natural materials like wood, stone, leather and plants are also a great choice to create a connection with the outside world.
Curtain Poles and Tracks
If your living room project includes a curtain, you should consider a beautifully designed curtain pole or track to complete the look.
The Silent Gliss Metropole is a versatile solution that will deliver a sleek and contemporary finish to any room. Combining the aesthetic beauty of a curtain pole with the functionality of a curtain track, the range is available in 3 round profiles and 1 rectangular profile with a wide choice of design led colours and finial styles. All diameters can be ceiling fixed, are compatible with wave curtains and can be bent for bay window requirements.
If you'd prefer a curtain pole, create a decadent feel with the Jones Florentine range. Available in 6 opulent finishes, the pole offers a fluted option that adorns a decorative ridge, further accentuates the pole. Shop our full range of curtain poles and tracks here.
(Image opposite: Features Silent Gliss Metropole in Ochre with Ellipse finial. Curtain in the Silent Gliss Colorama 1 Multicolour fabric).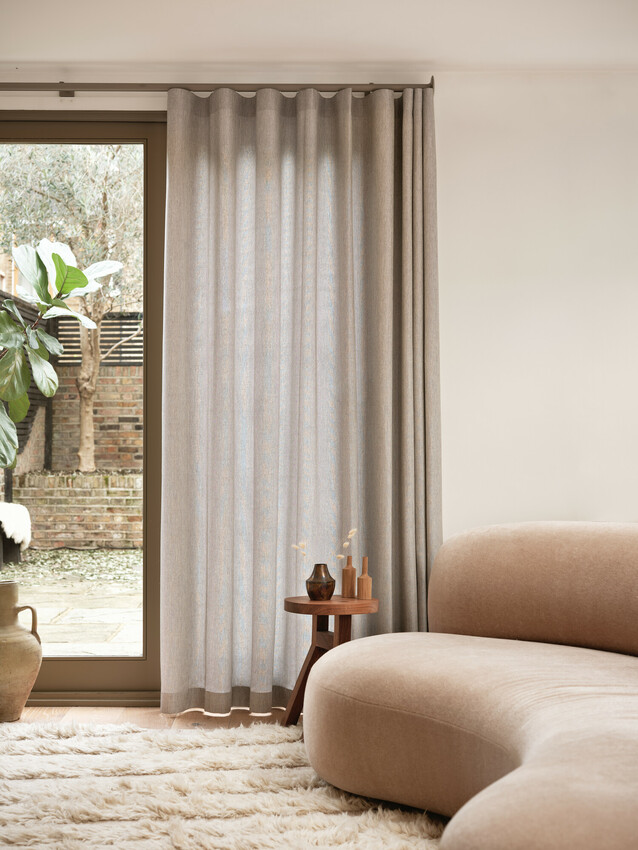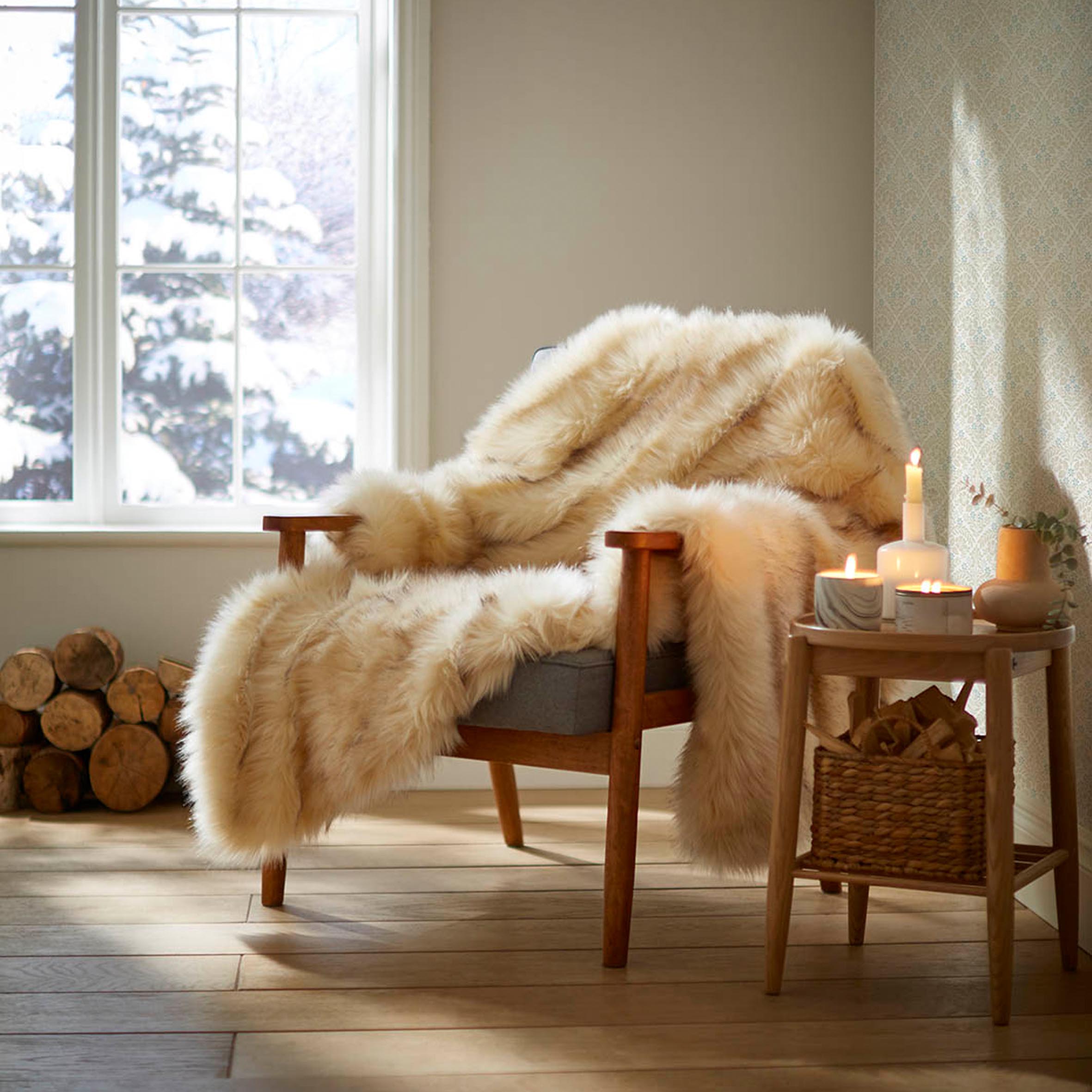 Cushions and Throws
Layer up your sofa or chair with a cosy cushion and snuggle throw. Using a mix of textures and patterns will add visual interest and make your space more inviting.
We absolutely adore the Laura Ashley Hexham and Berwyn faux fur cushion and throws. Sumptuously soft, these designs come with a luxurious velvet velour reverse, perfect for creating a warm and cosy look. Available in a chocolate or cream colour way for a versatile addition to any scheme. If you'd prefer a deep, moody look, the Laura Ashley Heaton cushion and matching throw are also available for a dramatic finish.
(Image opposite: Laura Ashley Berwyn Throw in Cream).
Rugs
Tie the look together with a designer rug. Available in various shapes, sizes, designs and colour ways, this floor accessory will add warmth, texture and visual interest to the space for added comfort and cosiness.
The Harlequin Atoll rug in Auburn/Stone is a stunning example (shown opposite). Combining a warm palette with a natural design, this handtufted cut pile 100% Pure New Wool rug is a luxurious addition to any room. Please view our Rugs Buying Guide here for help in finding the right rug for your requirements.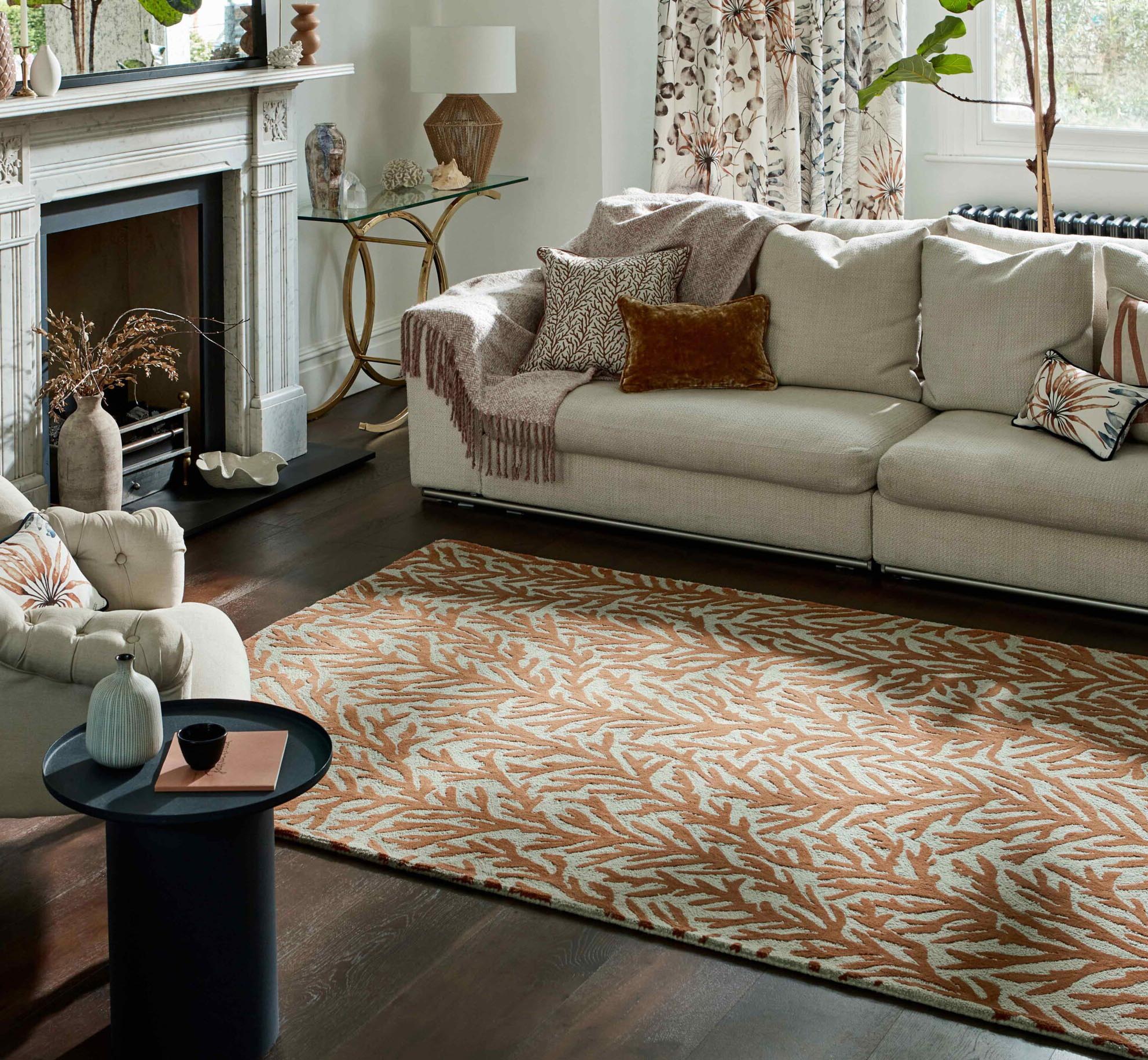 Overview
By following these styling tips and trends, you can create a living room space that is stylish, comfortable and inviting. It's also important to make it a reflection of your personality and style to ensure the living room is a space that you and your family love spending time in!
We hope you found our living room styling inspiration useful and insightful. If you're embarking on a home project and would like any help or advice, please do get in touch. We offer a bespoke design service and can provide fabric, design and paint colour advice to help you create a home you love. We can also make up your perfect window dressings with our bespoke, made to measure curtain and roman blind making service.
Email sales@thehomeofinteriors.co.uk or call us on 01590 615775.
Follow us on Instagram and Facebook: @myhomeofinteriors