Clarke & Clarke Made to Measure Roller blinds
Clarke & Clarke have teamed up with a UK blinds manufacturer to offer a design led range of made to measure roller blinds with high quality components, in prints that complement current interior design styles and colour schemes. This simple and versatile window treatment can offer you privacy, comfort and style at an affordable price. Please view our YouTube video that talks you through the range and shows you the products.
Benefits of a made to measure roller blind:
They are made to your exact window size so ready to fit upon delivery!
Stunning designs – please visit our website to view the full range and to order fabric swatches.
Versatile – roller blinds are available in different finishes enabling you to choose the finish to suit your requirement for example a sheer finish works well if you need some sun shading or privacy; blackout finishes are great for bedrooms and water resistant finishes work well in bathrooms or kitchens.
Layering – they are also great for layering and work well inside a recess with a roman blind or curtains on the outside of the recess making your room warm and cosy.
Practical – a made to measure roller blind when rolled up is small, neat and discreet. Each blind comes complete with fabric wrap around the bottom bar.
Easy to use and maintain – simple to install with 2 universal brackets (that can be wall or ceiling fixed) and fixings. These made to measure roller blinds come with a nickel metal chain and child safety p-clip.
Shop the full collection here.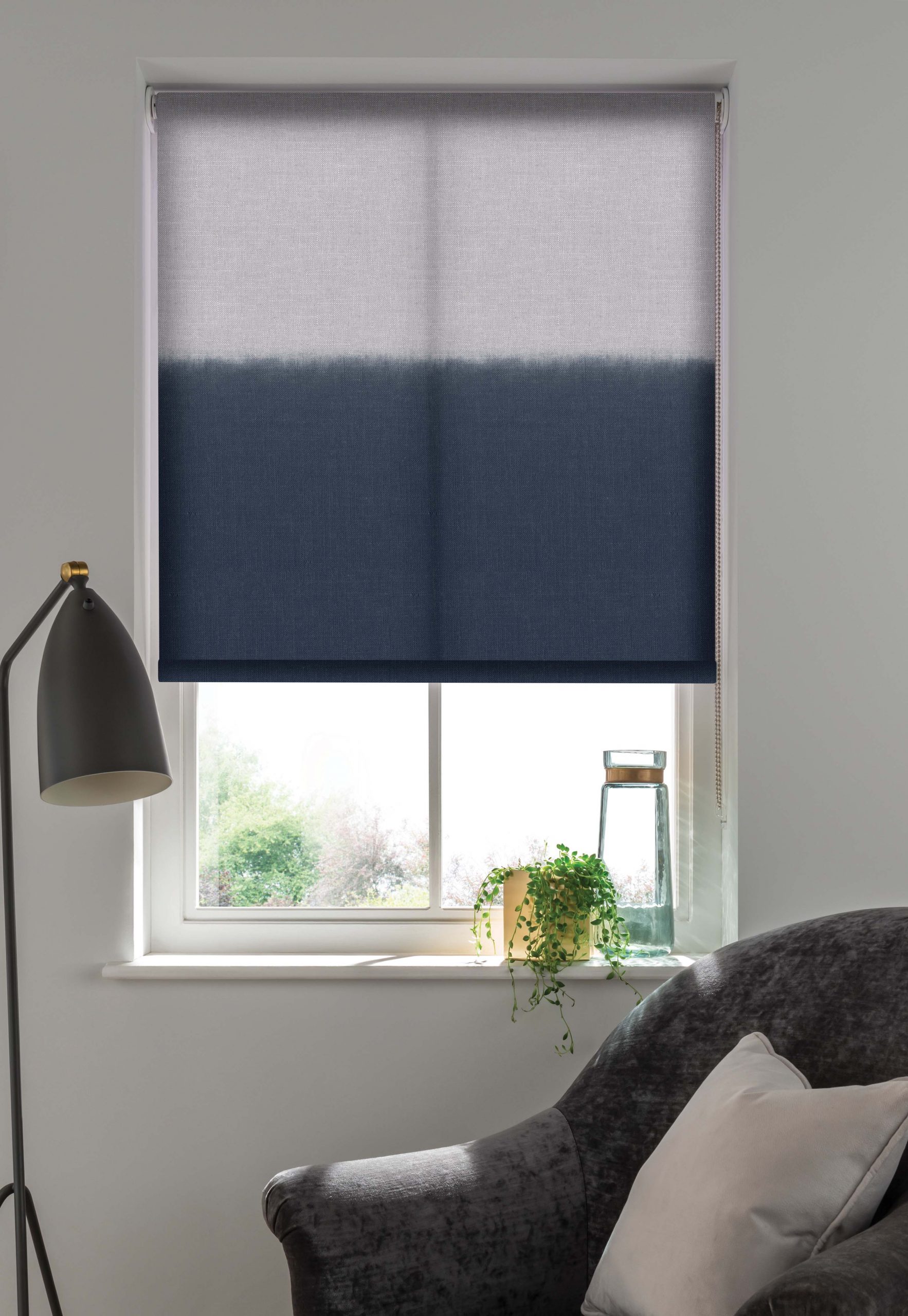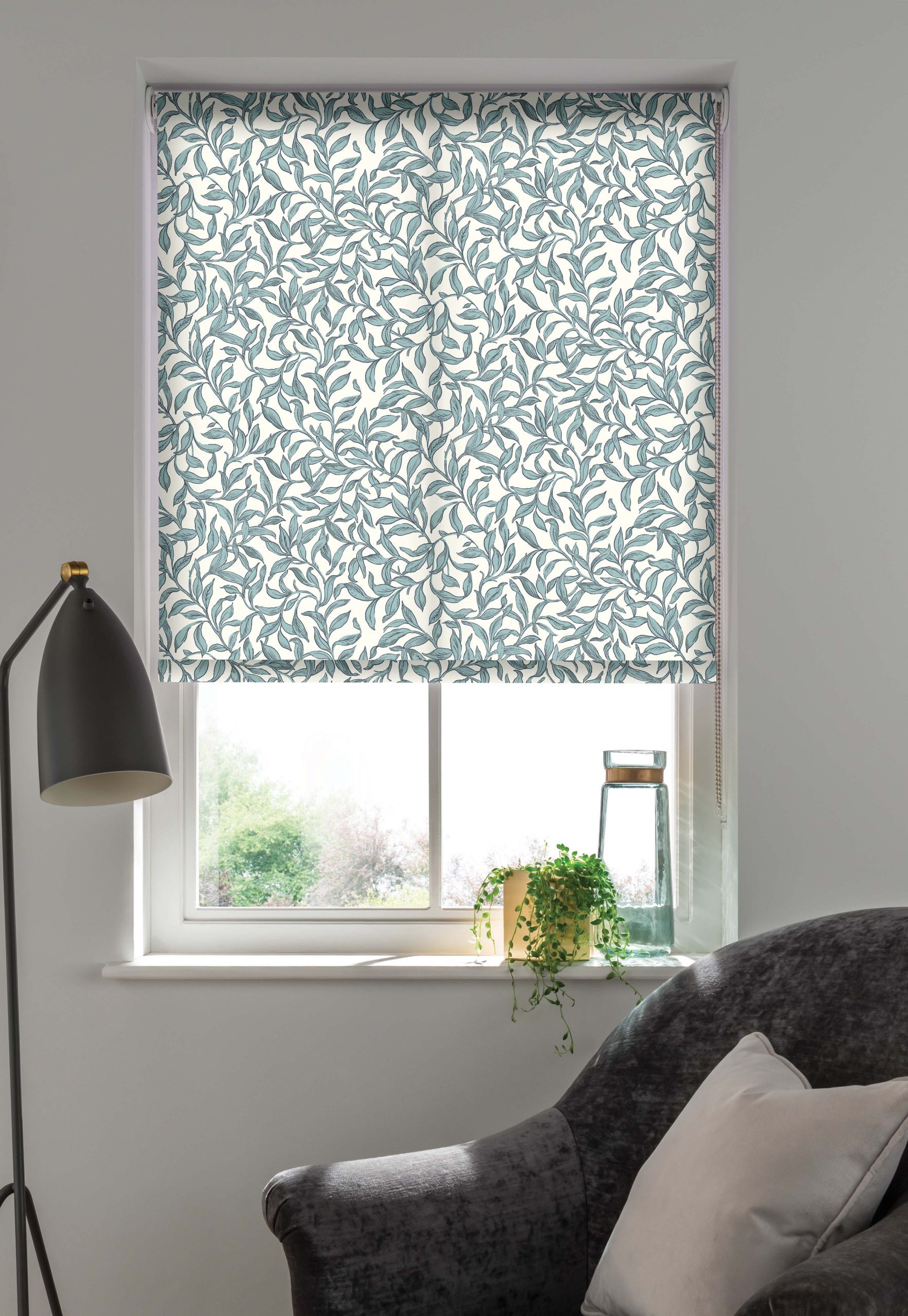 Clarke & Clarke made to measure roller blinds are available in five different finishes to suit your requirements.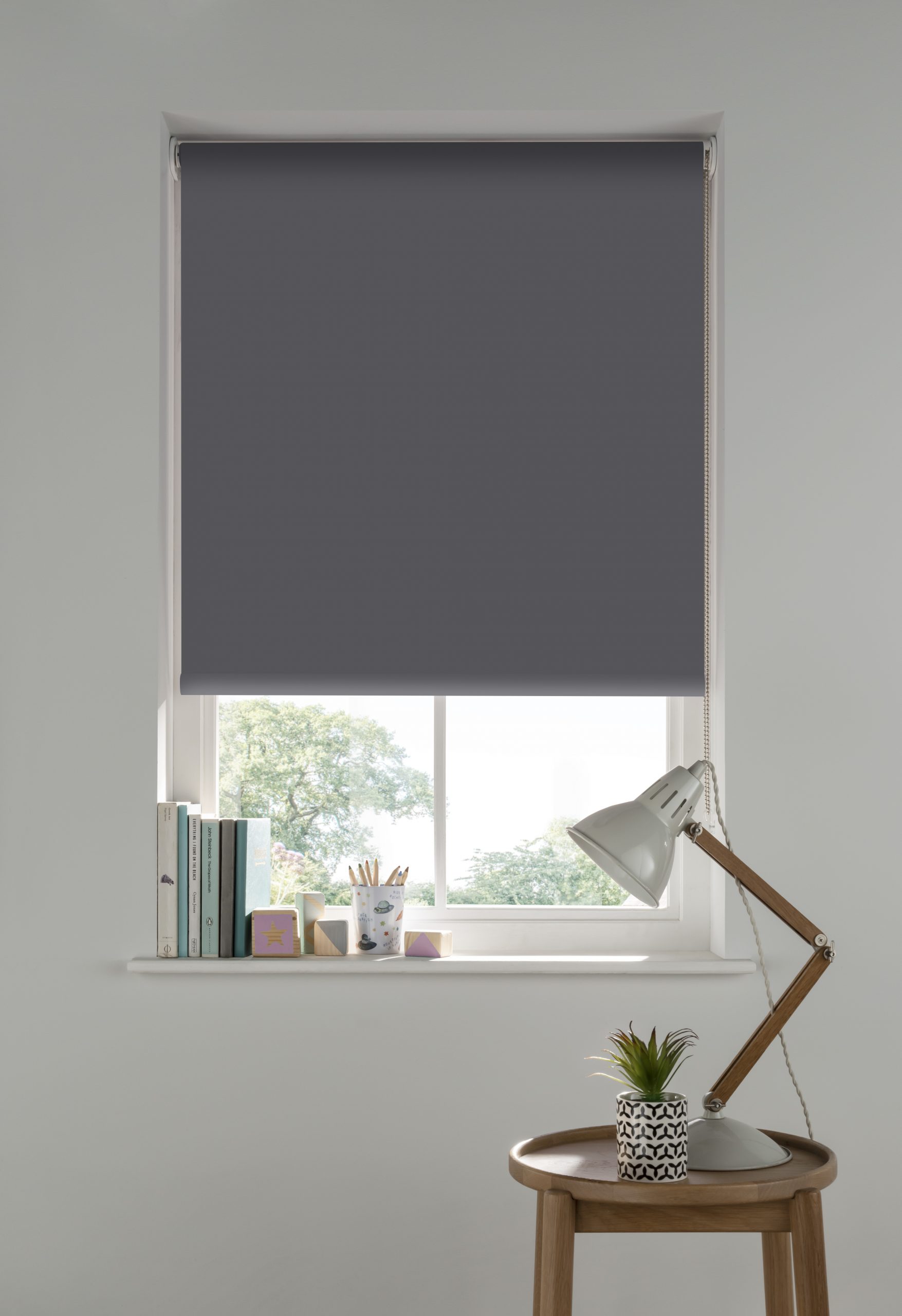 Blackout …
offers complete light protection, which is perfect for bedrooms.  The printed blackout designs have a subtle texture to add depth and dimension to the blind.
Clarke & Clarke have categorised their plain range by finish.  The Dusk blackout finish comes with a colour matched backing which means you can opt to have your blind off the back of the roller.  This enables the blind to be closer to the window which stops light ingress.  The Twilight blackout range has a white backing so we would recommend these blinds are ordered off the front of roll.  This will bring the blind further away from the window but may be handy if there is a window handle you need to avoid.
Please note if you are fitting a blackout blind within a recess there will be some light ingress around the sides.  Unfortunately this is unavoidable.
We are totally in love with some of the gorgeous children's print designs all available in a blackout finish.  Clarke & Clarke's Elephants pastel design is so sweet!  The Bunting design is bright and colourful, and Stars (available in pink or navy with red stars) are always popular in children's rooms.  We also have some fabulous geometric designs that will brighten up any room.  We particularly like this Lanna design.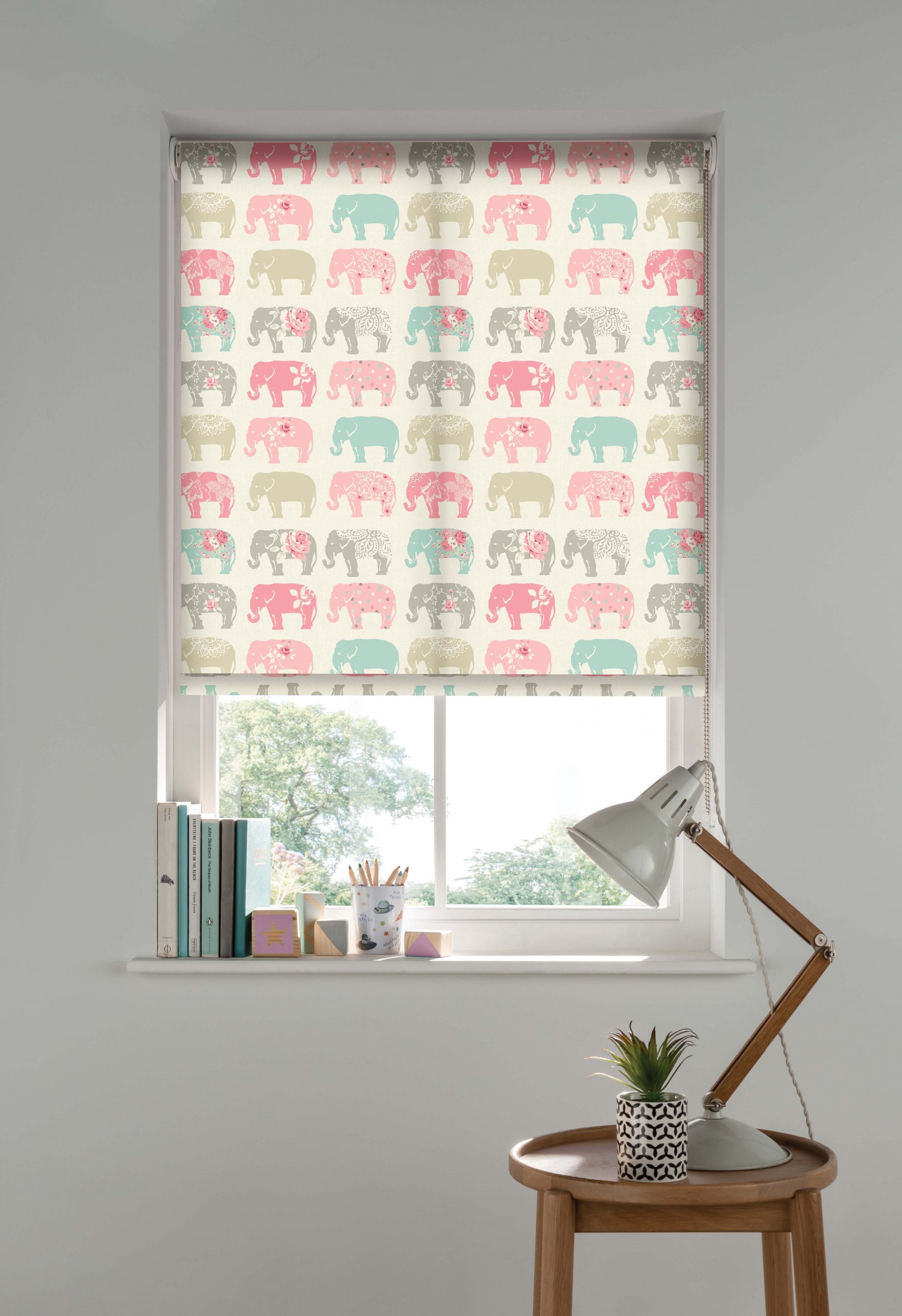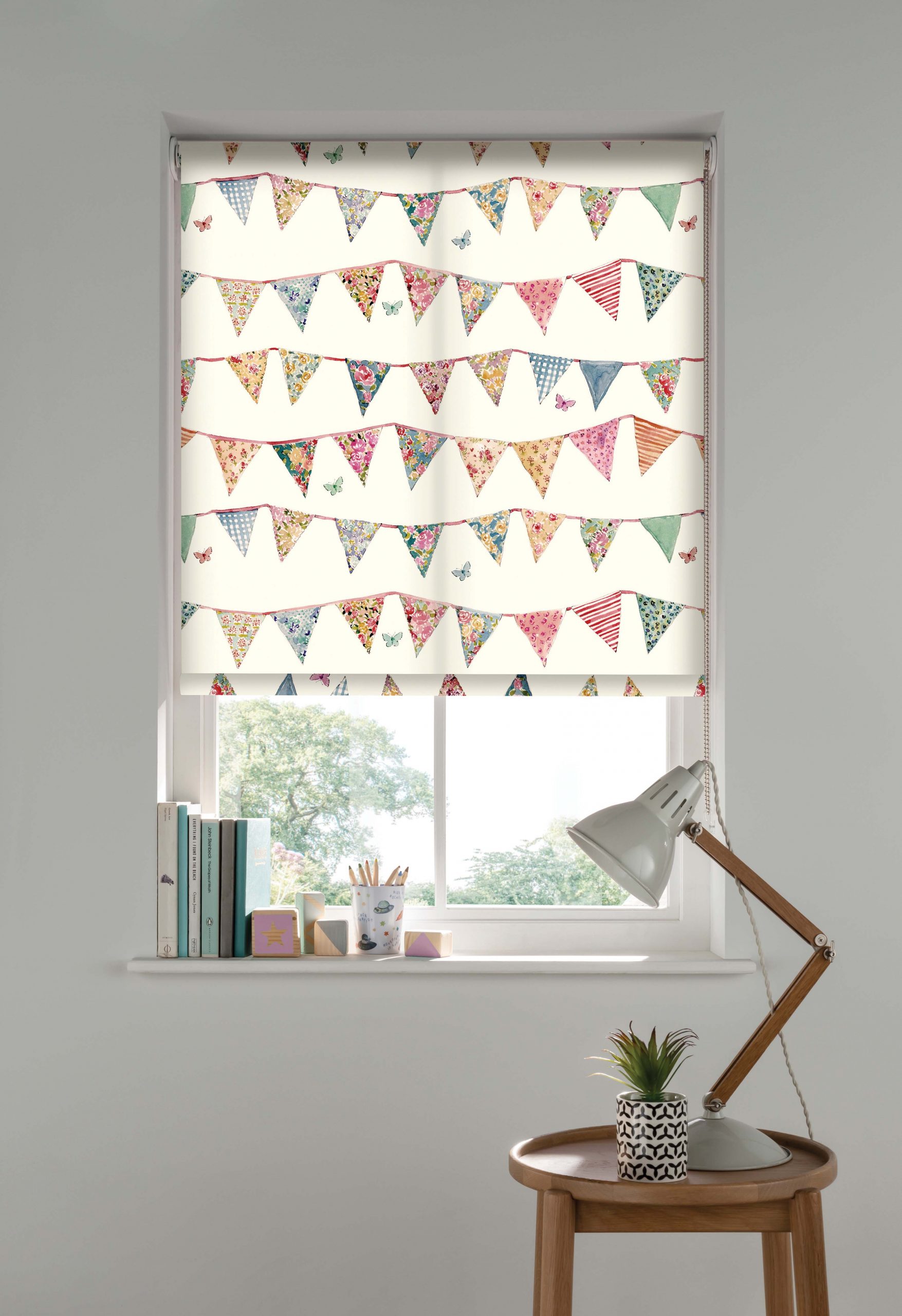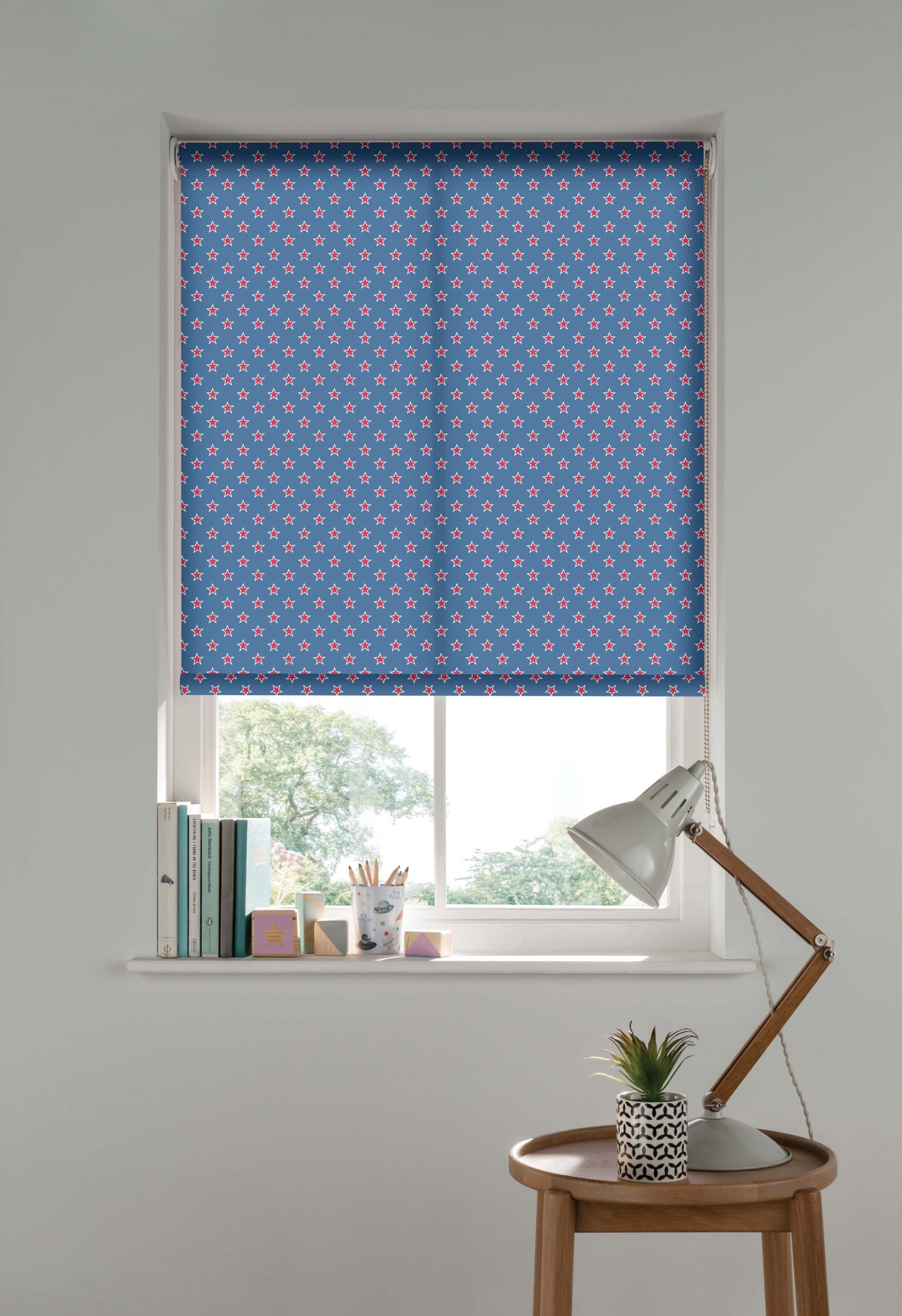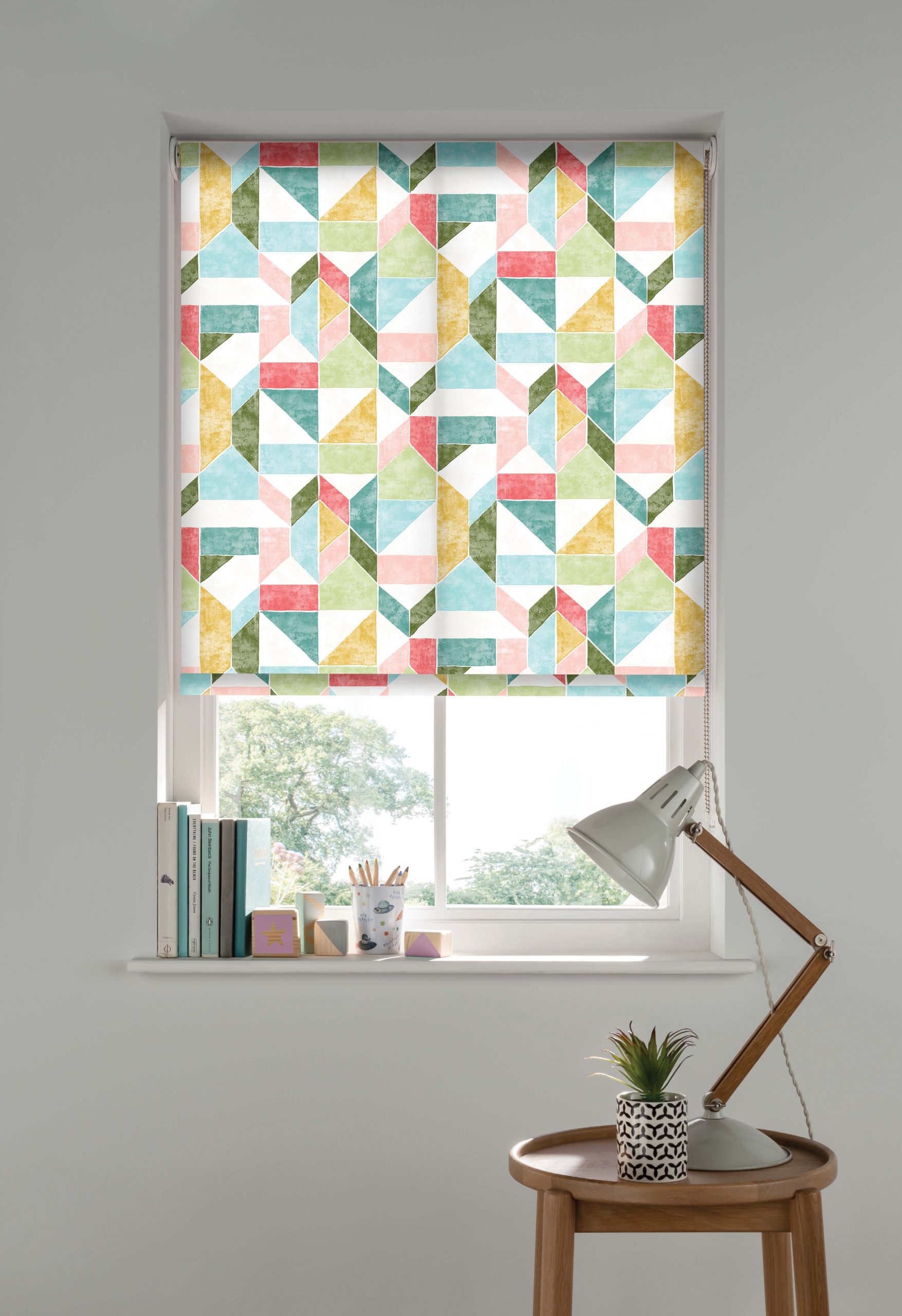 Standard Daylight …
allows light to filter through and is suited for all living spaces.  This option is semi-translucent, creating a softer printed finished look. Ideal for home offices this finish will block out some sunlight if you need some shading from the sun.  This Entwistle design is a contemporary design and is available in 3 colour ways.
The plain range of standard daylight blinds is called Lunette.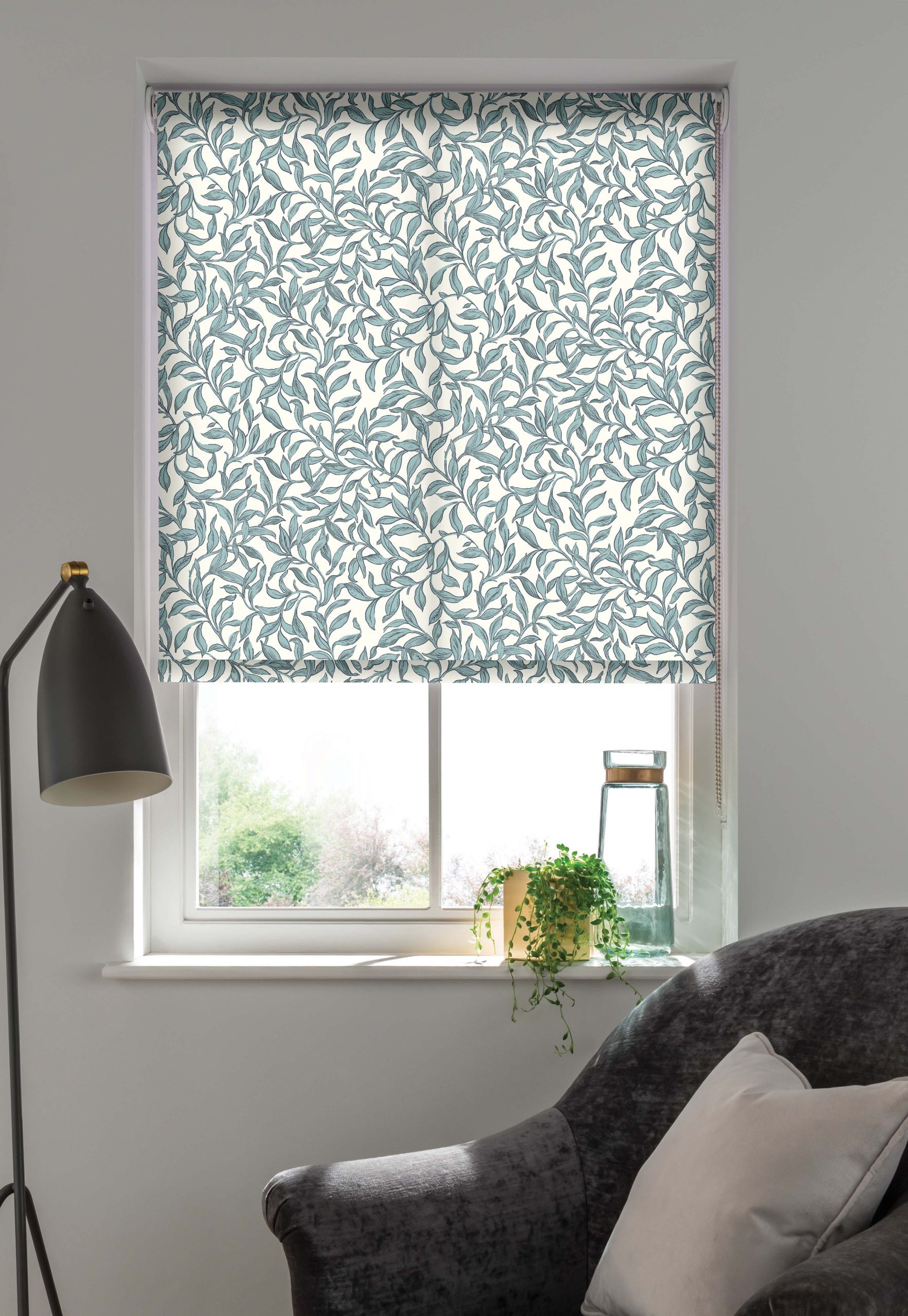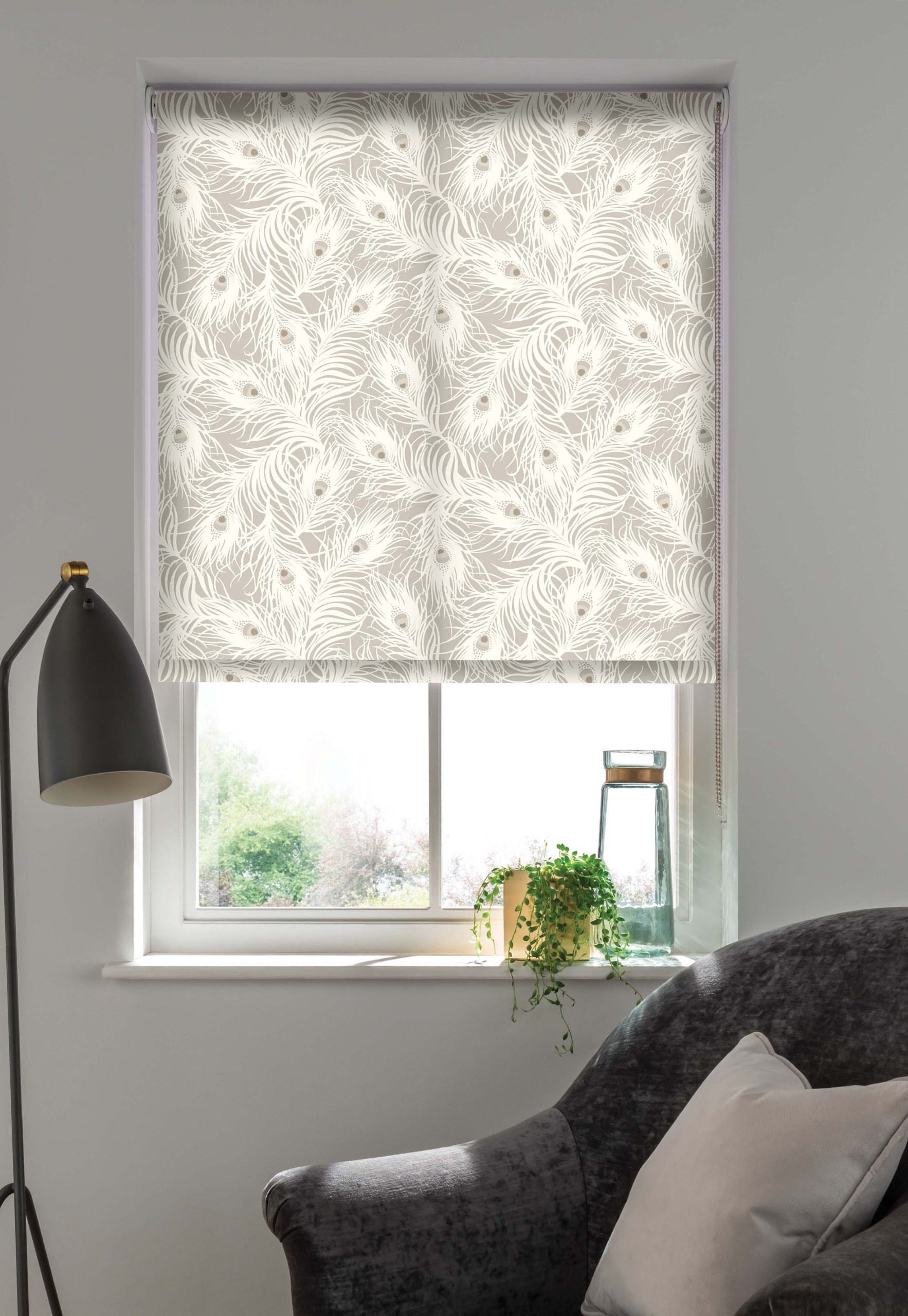 Textured …
with a delicate linen look this fabric allows for a softer, calmer colour palette to create a more diffused window covering.  This Harper design is available in 3 colour ways.
Sheer …
There are 4 sheer finishes in the Glint plains range in neutral colours that work with any interior design style or colour scheme.  These are great to offer some privacy, yet the sheer texture allows light to come into the room.  They work well on their own as a simple, stylish, contemporary window treatment, and are also perfect for layering with a roman blind or curtains on the outside of the recess to bring warmth into your room.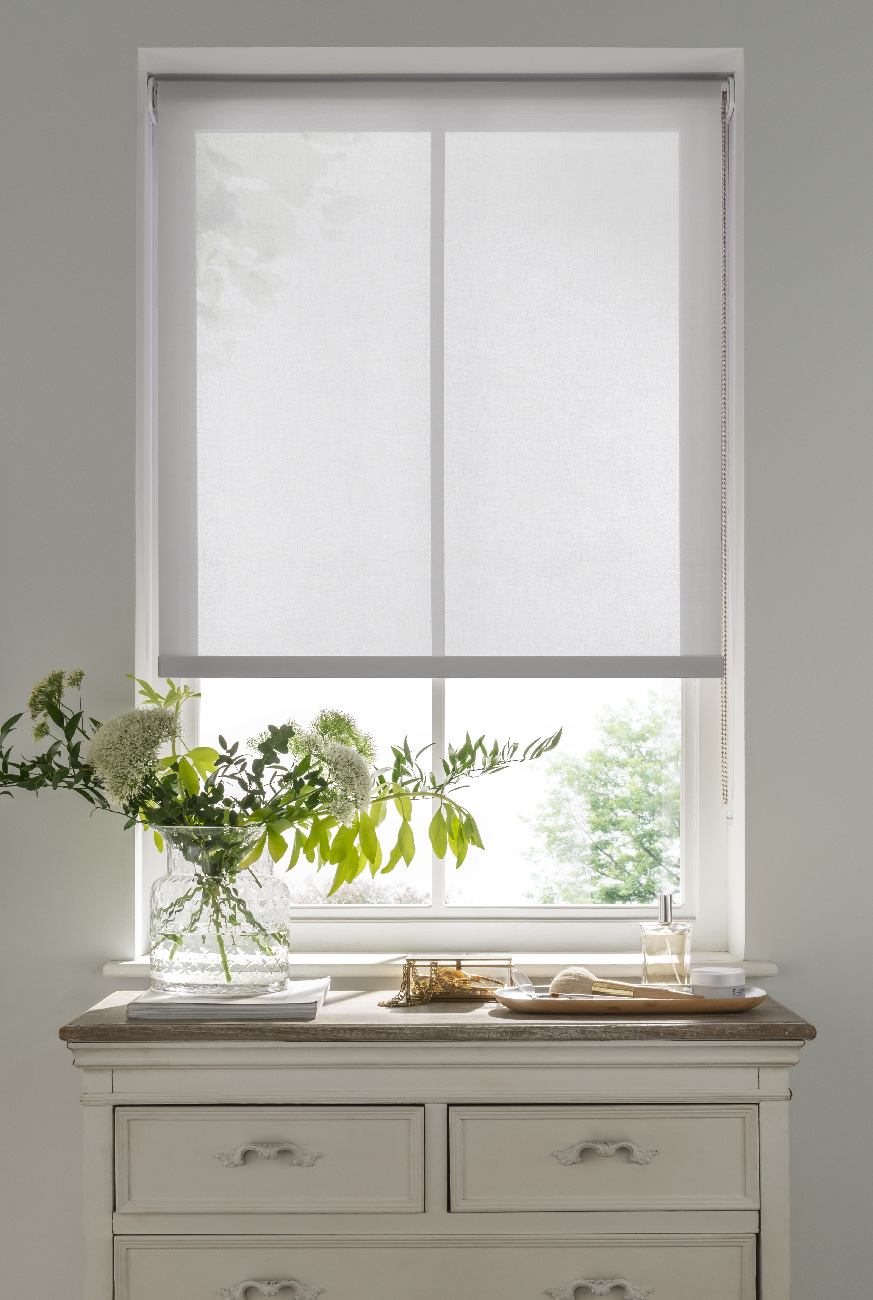 Water resistant …
is perfect for bathrooms and kitchens. This water resistant option has blackout properties and is 100% waterproof.  Offering privacy and durability, this fabric is also wipe clean (no more sticky finger marks!).   We love this Zora design for a contemporary bathroom look, and this Moorland design in duckegg perfect for a kitchen.
Please note the colours can vary depending on the finish so we would also recommend a fabric swatch is ordered prior to ordering the blind.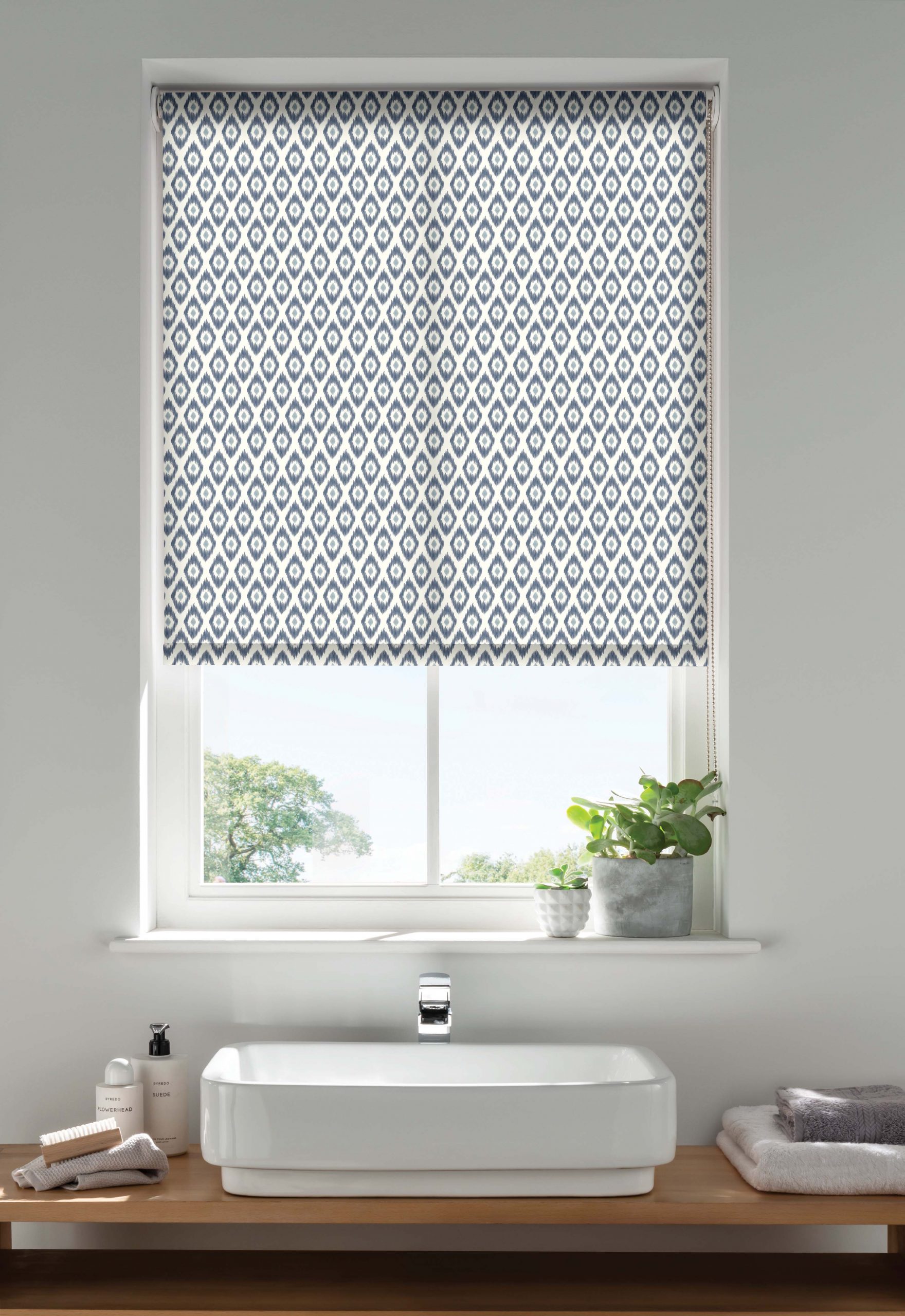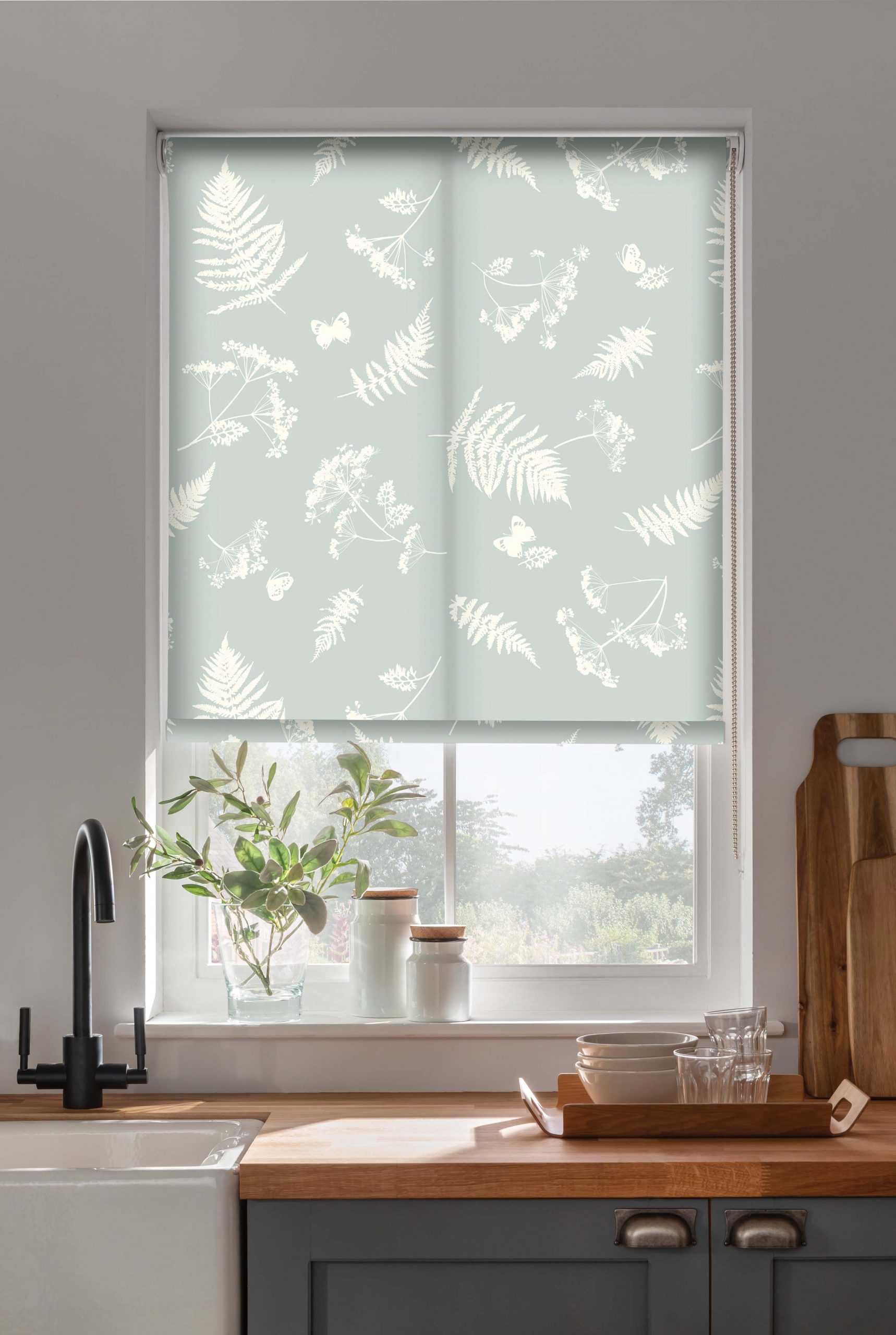 Trend Guides.
We have categorised the Clarke & Clarke blinds to tie in with our trend guides.  You can create a Mood Board by adding a product to your own mood board from the product page.  You can create various boards and give them your own titles for easy reference.
From left to right below.
Exotic Trend: we are so proud to be selling Emma J Shipley's stunning range of made to measure roller blinds.  This Amazon Navy roller blind will add sophistication to your living space and ties in with our exotic trend beautifully.   If you opt for a statement blind, plain walls work well in a complementing colour.  You can accessorise the room with bright and bold cushions to complete the look.  Velvet works particularly well with the exotic trend to bring an air of exuberance to your room.
Geometric Trend: geometric prints have been around for a while, and with seasonal updates are here to stay!  We love this Eclipse blind, available in 3 striking colour ways.
Contemporary Coastal: for a contemporary take on coastal we love this Surf design.
Traditional Coastal: or for a more traditional coastal look check out the stripe designs.  We love this Fly Away design available in navy or duckegg.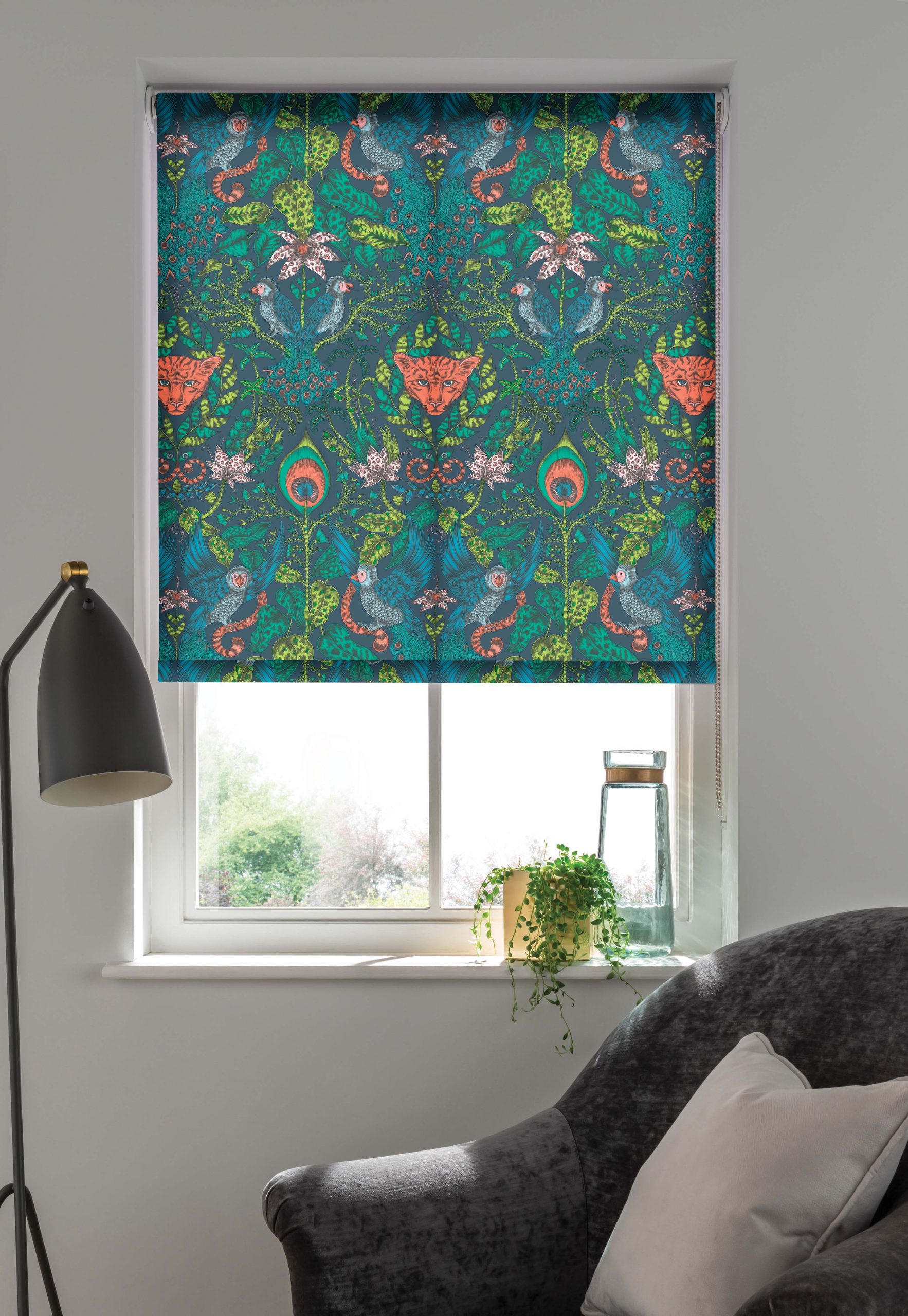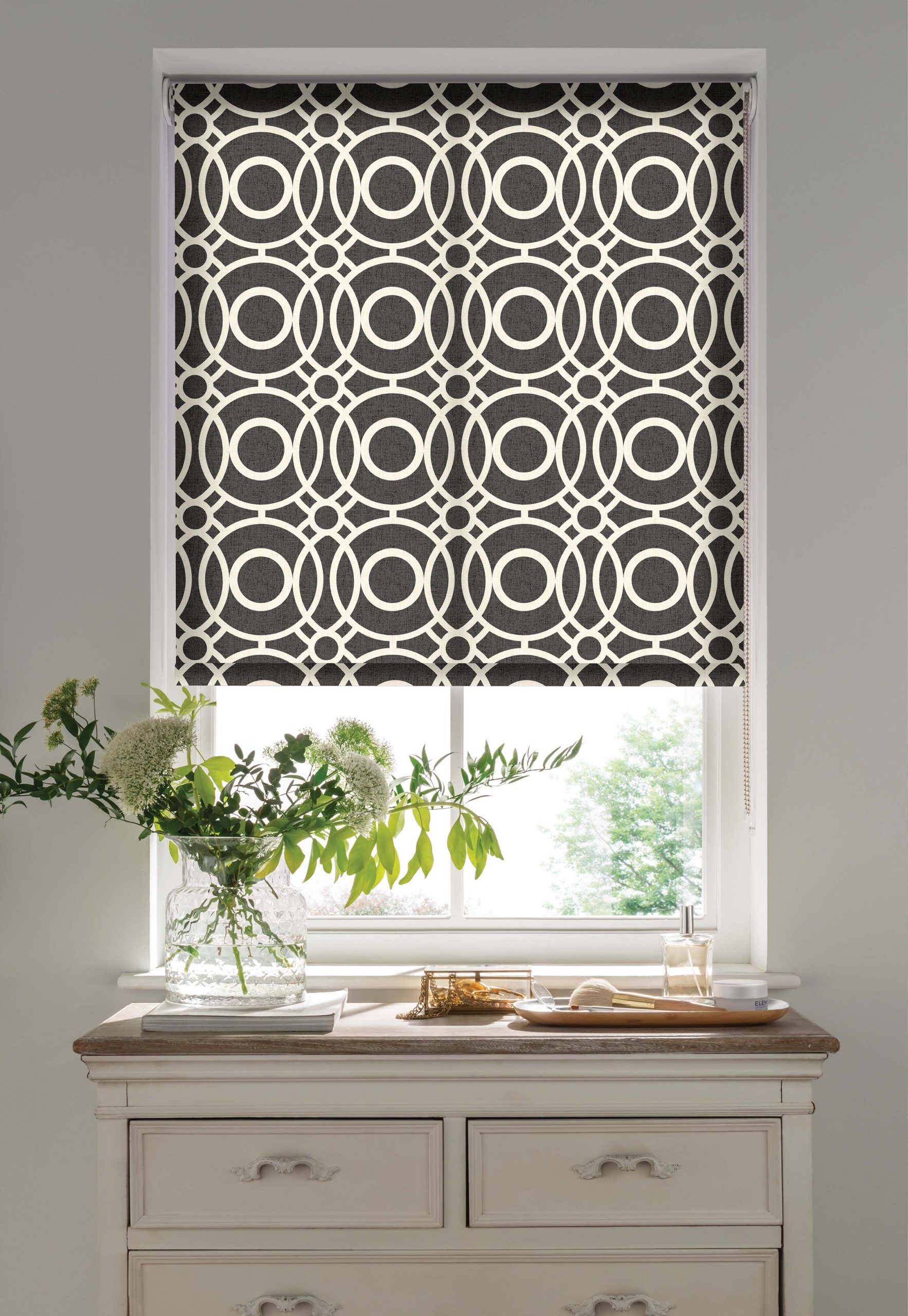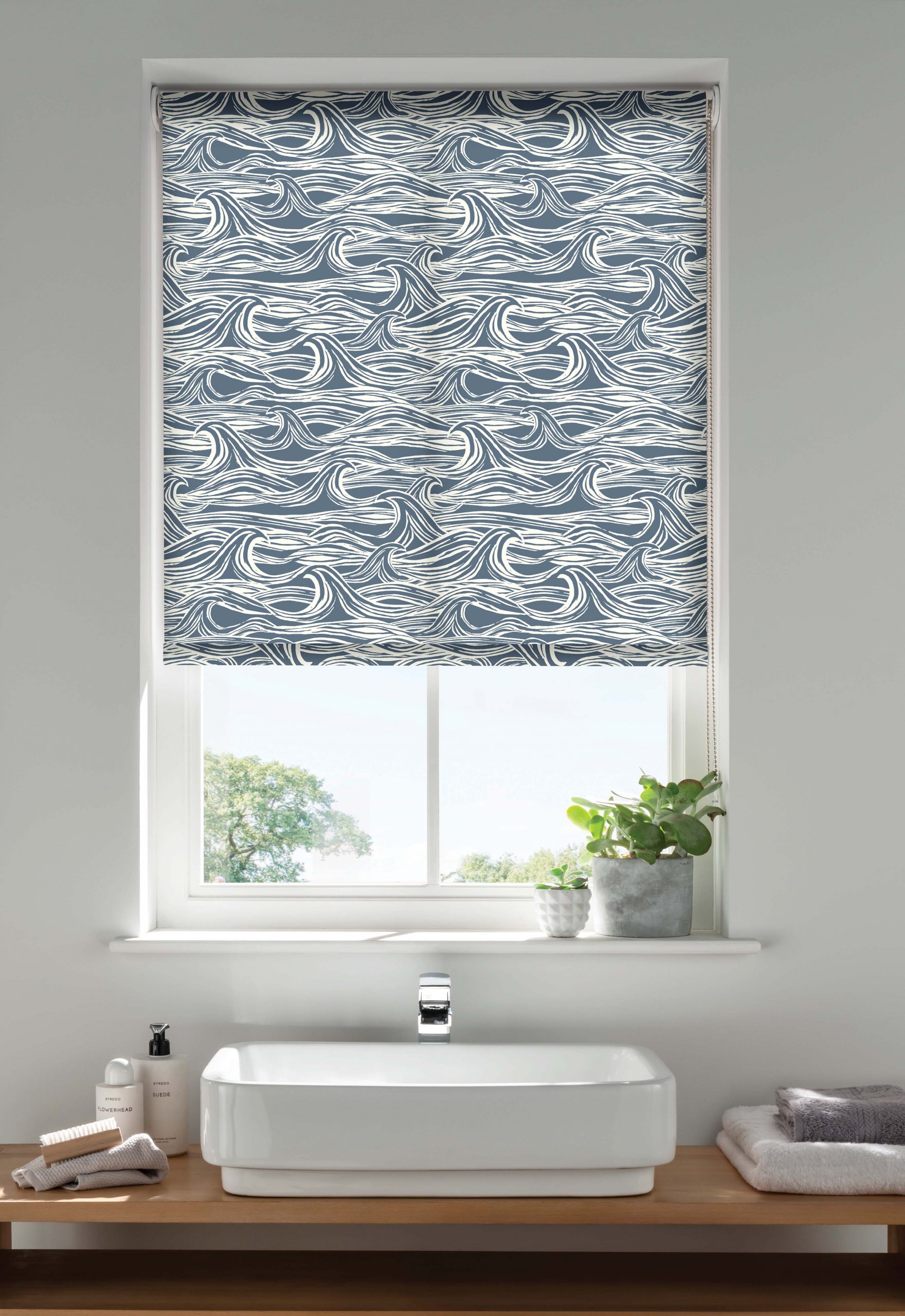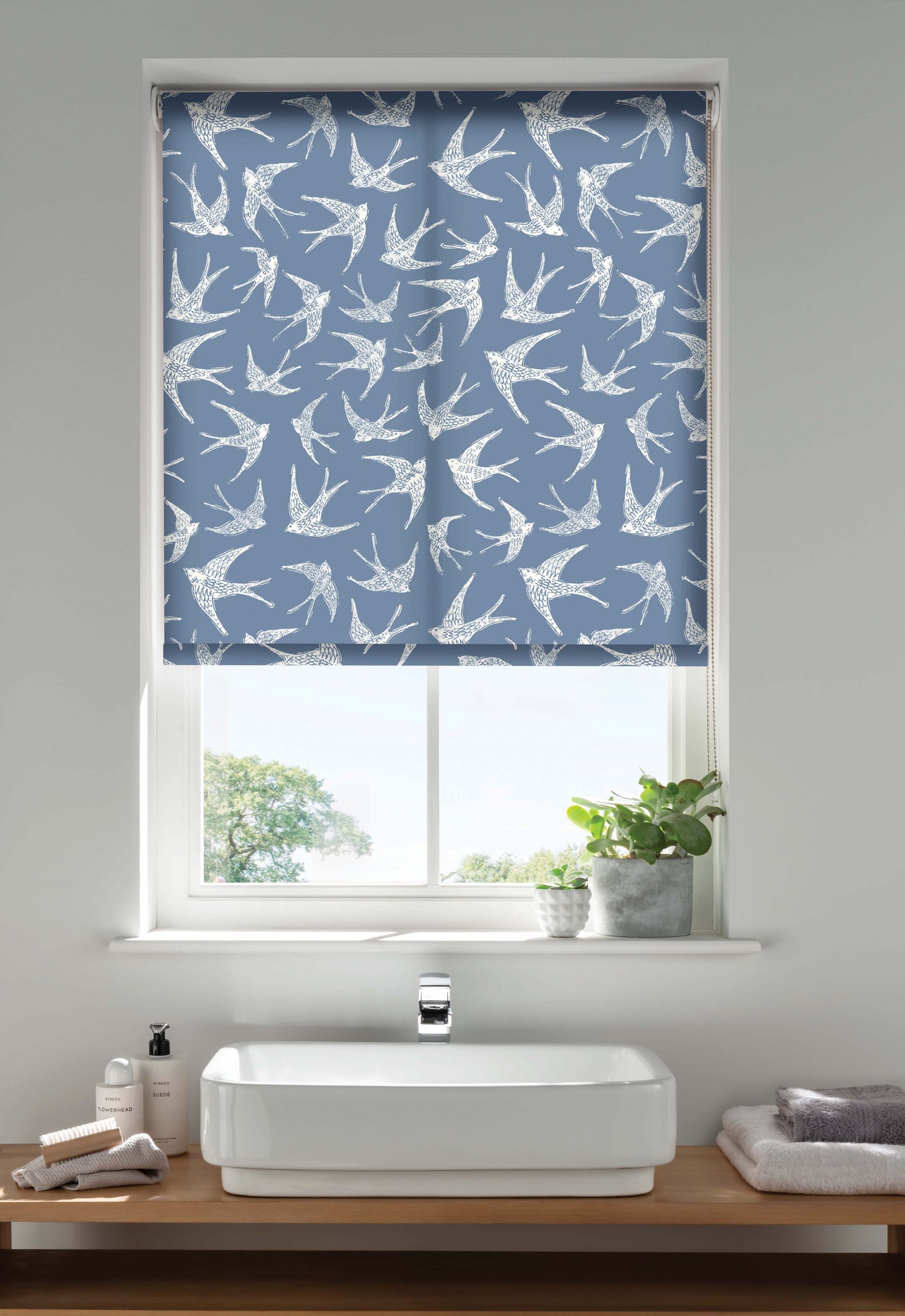 Finally, some of the soft, delicate floral designs tie in beautifully with our Floral Romantic trend.
From left the right below:
We love the this Mariam design which has a lovely modern pallet to complement current interior design colour schemes.
We couldn't resist sharing the lovely Rover design in linen!  Perfect for any dog lover!  And coming from the New Forest we love this March Hare design, available in 2 colour ways, and the New Forest design which features some local friends and New Forest cues!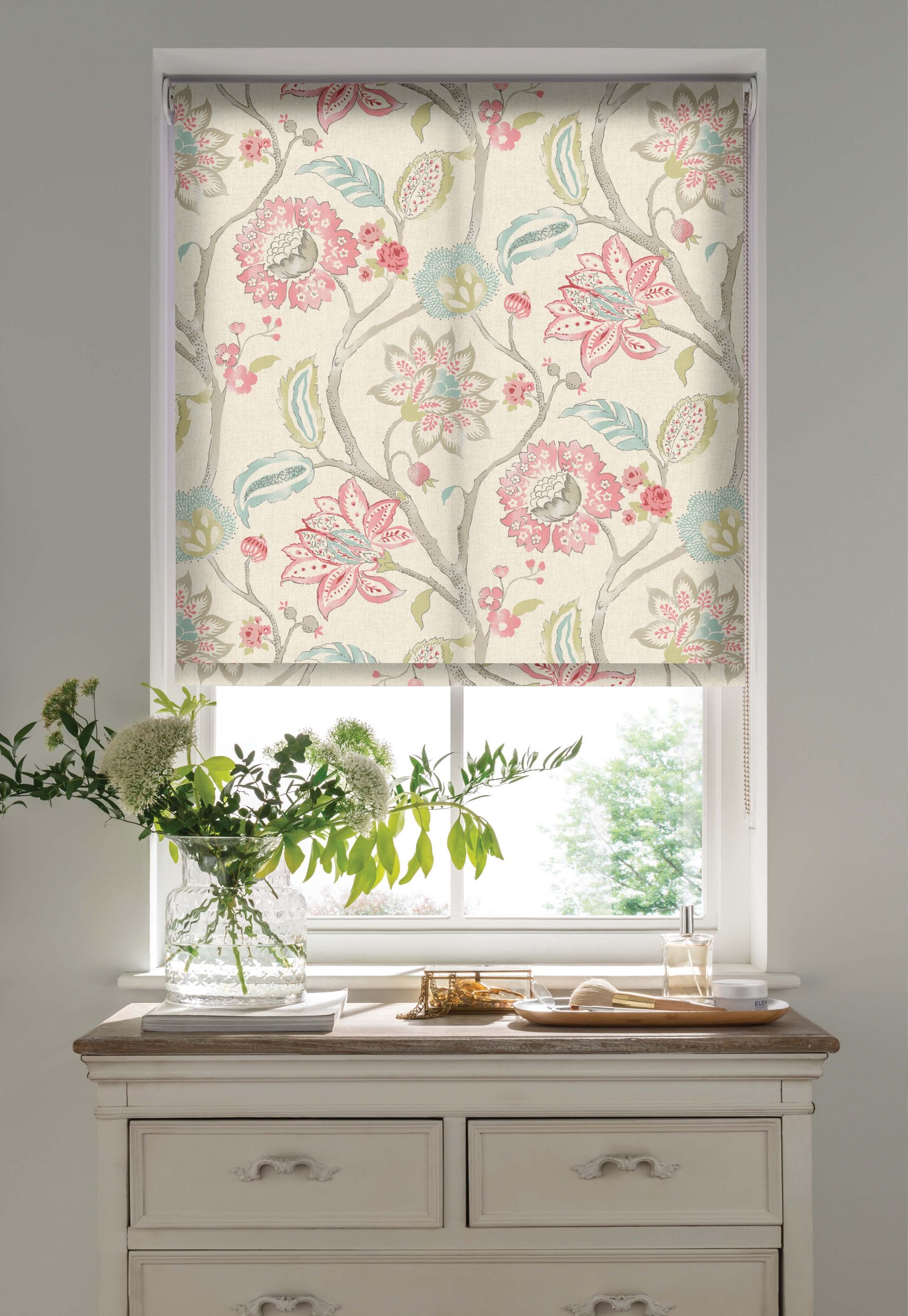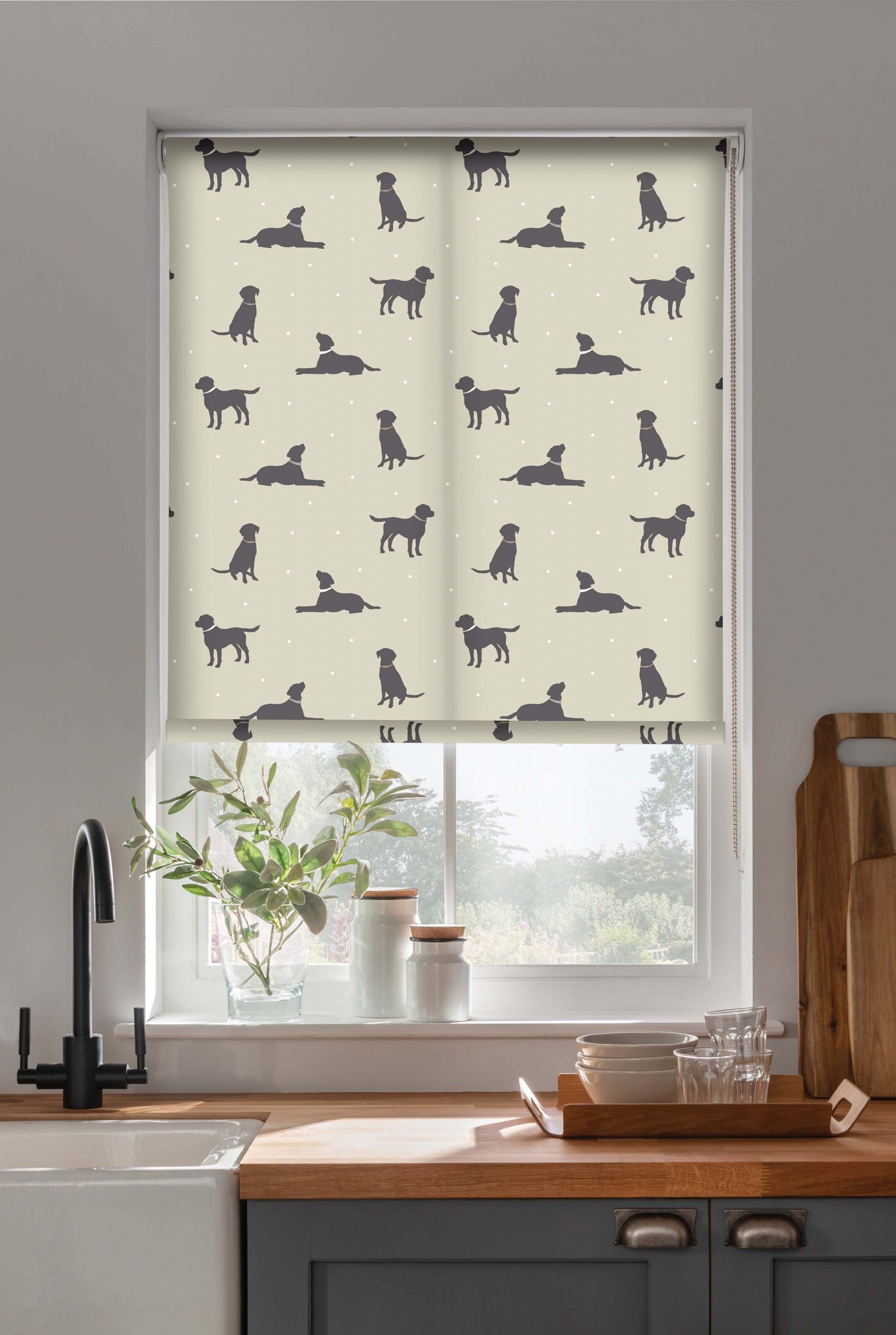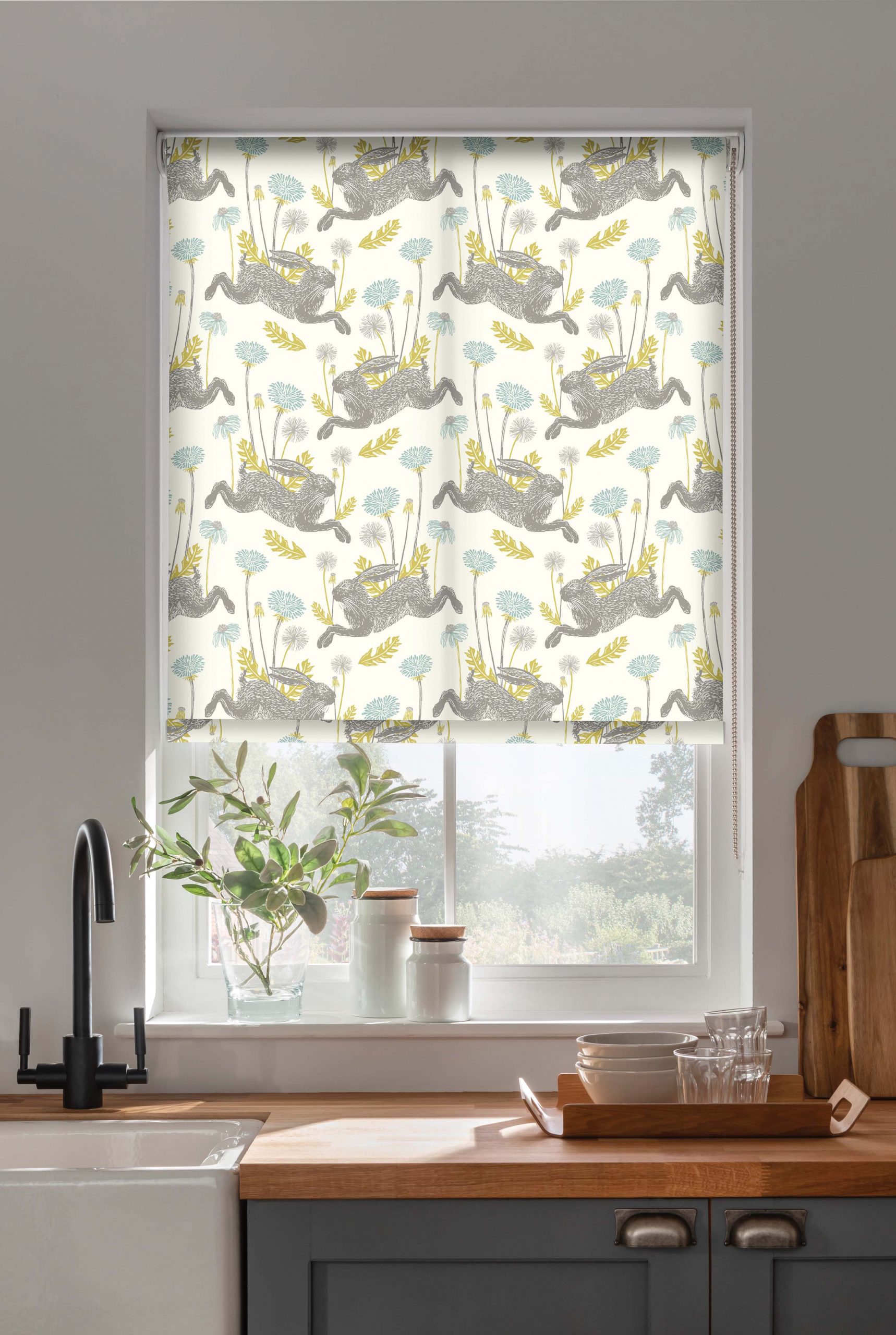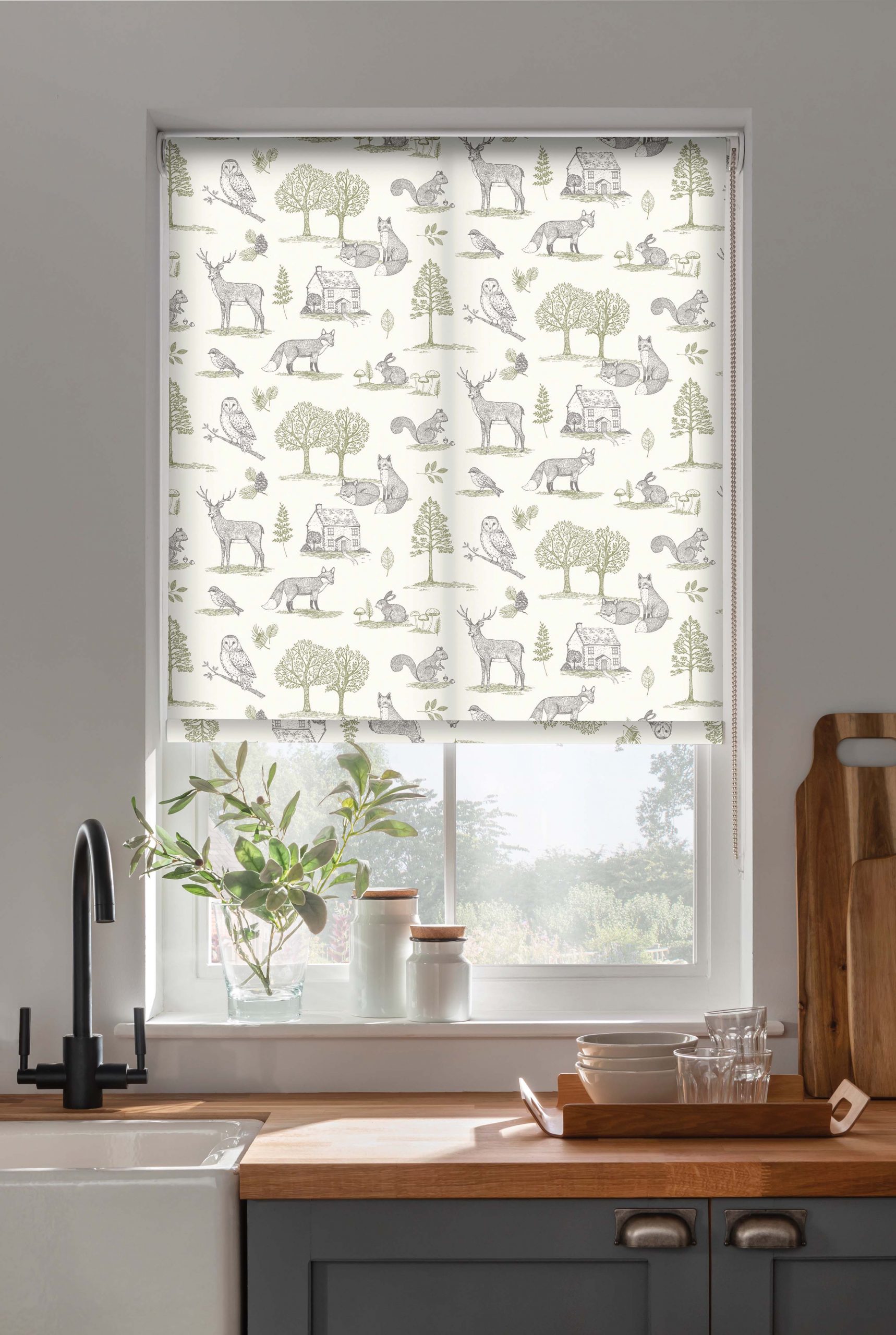 Inside Recess
If you would like your roller blind to fit inside the recess then you will need to measure the width of the recess and the drop.  Measure from wall to wall and from the top to the bottom of your recess to give you a finished blind width and drop.  Please specify 'recess size' measurements when ordering and we will make the deductions for the brackets.
Outside Recess
Measure from where you want the blind to start and finish (including space for the brackets) both width wise and from top to bottom for the drop.  Please specify 'blind size including brackets' when ordering.  Brackets will be supplied with a neat bracket cover for stylish finish.
Please get in touch if you have any questions or would like any further information.  Fabric swatches can be ordered from each of the product pages on the website.  We hope you love the range as much as we do!